Winter Wonder-Netherlands
Winter Wonder-Netherlands
We flew to the Netherlands two days before my (dreaded 😉 ) 30th birthday. When we arrived, my whole family was there to greet us! Not just my parents and brothers and sister, but the whole extended family including aunts and uncles 🙂 What a surprise! They had organised a whole weekend away, and rented two minibuses to drive straight from the airport to Putten, a small town in the middle of the country. We stayed in a nice hotel there, in the middle of the forest. It had snowed a lot the day before we arrived, and the next day we woke up to a winter wonderland. There hadn't been much wind, so all the snow was still lying on the trees, it was so pretty! After a breakfast some of us went for a walk in the forest. You'd think I'd get enough of snow after living in Tromsø for this long, but it was so beautiful I couldn't stop taking pictures!
Kaya took Mare on the sled, though some of the way she sat on my dad's shoulders. She was all wrapped up on her sled, wish I could be transported like that 😀
Some more photos of the forest… I could have almost taken black and white photos, you wouldn't see the difference!
A group photo of those that went walking (others went sledding or sat by the fire in the hotel), and a portrait of my parents.
That evening we also celebrated Sinterklaas, the Dutch version of Christmas which is normally celebrated on the 5th of December. A lot of fun! The next day it was my birthday 😀 Everything was decorated and everybody was wearing party hats and singing for me, and I had a pile of presents – they really spoiled me 🙂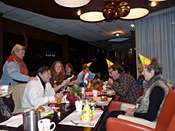 We left the hotel, but we didn't go straight home. My sister had organised a "family day", a new tradition that I've always missed as I am never in the Netherlands when she organises it. This time we went to a farm where we did a bow-and-arrow competition and a competition in traditional old-dutch games, which was a lot of fun 😀 They even had a version of shuffle puck (air hockey), no idea how "traditional" that really was 😛 but it was good fun. We also used the opportunity to take some rare family photos… unfortunately everybody is squinting into the bright sun, but I still like the photos – it's not very often we have this opportunity.
The farm was located in the middle of nowhere, in a typical Dutch landscape. Now that I live surrounded by mountains, I was impressed by how flat it is in the Netherlands 😀
What a great weekend 🙂 I enjoyed every minute of it. We spent the rest of our week in the Netherlands enjoying the small joys of urban life – going shopping, going to the cinema, spending evenings in cosy cafes without going bankrupt 😉 Paul flew to London on Boxing Day, and I flew back to Tromsø a few days later, as I had to work during the New Year period.