Ti på Topp 2010: Åsfjellet & Sørtinden
Ti på Topp 2010: Åsfjellet & Sørtinden
Ti på Topp has started again! It's a challenge to climb "10 tops" over the summer. If you climb more than 7, you get a mug (yay 😉 ). There's 5 easy ones, 5 moderate ones, and 5 extra tops that are much more difficult. Last year we nearly climbed 7 tops. "Nearly", as we gave up when we were actually very close to the top of Grønnlibruna as we were getting completely soaked. Anyway, I decided to set myself a huge challenge this summer: climb ALL 15 tops. Not just 10, but also the 5 extra ones. Those are very demanding, and I'll need the 10 other tops as training I reckon! Let's see if I make it 🙂 I'm planning to post some photos and a map from each trip.
We started last Sunday with Åsfjellet, on the mainland, which is 336 m high. As I am a bit of a geek with my gps, here is the map and the profile of our hike:
It was 6.6 km in total and it took us 2 hours and 40 minutes. Ok, enough of the statistics 😉 We went with 2 collegues of mine, Sevim and Silje, and their boyfriends. We didn't have the best weather, but it stayed dry most of the time.  Here I am near the top, and we found these antlers on the way. There's still quite a lot of snow around, as it's been snowing a couple of times in the past week. It's patchy – I call it "zebra mountains" :D.
These photos are taken from the top, the view towards Tromsø is very nice! Silje brought her little dog – it's TINY. About as big as a cat 😀 But of course it was still the quickest to come up, and makes extra mileage by running back and forth the whole way. If we stood still for too long, he would get cold though and start to shiver!
And a photo of us with the cairn 🙂 Notice that it was snowing while we were on the top!! We didn't stay very long, it was not warm enough to have a break up there, so we just started our way down and had a break at the car.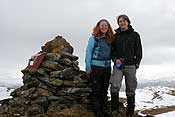 Yesterday afternoon, I climbed Sørtinden (471 m) with Sevim. Quite a lot higher than Åsfjellet, but the hike starts from a lake at 220 m, so it's actually a much quicker hike!
The total trip was only 3.3 km and it took us 1 hour and 40 minutes. It was very busy on the trail, there were lots of other Ti på Topp – hikers, plus a whole school class on a trip. Everybody was in a good mood and we chatted with quite a few people on the way – nice! The first photo is taken on the way up and shows the view over Tromsø, with Tromsdalstinden hidden in the clouds. The second photo is taken from the top. The island with its top in the clouds is Vengsøya.
It was cold and windy at the top, so again we decided to walk down and have a break at the car. We were hit by a shower on the way down – a mix between rain and snow which got us quite wet! I really enjoyed the trip though 🙂 On the way home, I stopped to take this photo – so many sun beams, it was beautiful!!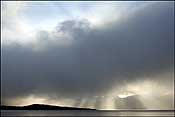 I didn't use to like the idea of going hiking when the weather was looking quite bad, I guess I am becoming more Norwegian 😉 As they like to say: "There is no such thing as bad weather, only bad clothing".