A Perfect Day
A Perfect Day
Summer has come to the Arctic! This is what our thermometer showed yesterday at around noon – in the shade…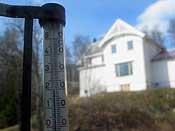 We drove to the north of Kvaløya, to the end of a dirtroad, and started walking along the coast from there. There are still some patches of snow left, though they are disappearing very quickly now. Paul tried to protect his shoes from getting wet, and walked barefoot over the snow! After about 45 minutes, we reached a beautiful white beach with clear azure blue water – beautiful 🙂
Of course, beautiful places like this don't go unnoticed and someone had built a cabin here. I think Paul was ready to buy it 😀 We spent some time suntanning on the beach, enjoying the views. Paul was tempted to go for a swim, but one toe in the water, and you remember you are in the Arctic and not the tropics – the water is so cold it hurts!
After our break on the beach, we had to walk back quite quickly, as we were meeting friends back in town for a BBQ. The original plan was Telegrafbukta, but we weren't the only ones with that idea – it was extremely crowded there. It was easy to avoid the crowds though, just move a bit further along and you find empty beaches. We had our BBQ next to a small lighthouse, and Paul climbed on it to take this photo 🙂 A flock of birds kept flying by…
The clouds were beautiful too! We stayed there for several hours, watching one of the last sunsets for a while – from tomorrow, we'll have midnight sun.
There were several people out in kayaks, enjoying the calm water and warm weather.
What a perfect day!! Unfortunately, I had to cycle to work for a night shift right after our BBQ, but I can't complain after such a wonderful day 🙂