SNOW – at last!!
SNOW – at last!!
We didn't have any snow in Tromsø for a long time, I think they had more snow in the Netherlands and the UK than we did here… which is quite frustrating as everything was just very icy and we couldn't go skiing. It's also a lot darker when there is no snow. But last weekend we finally got snow, and not just a little bit… 50 cm!! 🙂 This is what the view from our window looked like after all that…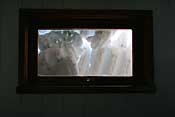 And that's actually the upstairs window 😉 Hehe… there is a small roof underneath where the snow piles up. It weighs down on our front door, which is now hard to open. We'll have to remove this snow at some point I think, if only to get some light in again!
On Sunday we went skiing on Kvaløya with Sevim and Njål. The snow was so deep and powdery that we sank in up to our knees at times. It was good fun though, and great to be out skiing again. Of course there were lots of people with the same idea, it was really crowded! Here's a picture of us during our break. We learnt how to make a bench out of ski's 🙂 While we were eating lunch, the skies cleared up a bit – the second photo shows how it changed from foggy to almost clear…
The next day was very sunny, and I stopped at Telegrafbukta on my way to work to take a few pictures. The fresh snow looked so beautiful in the sun. There is an open air museum here with pretty old buildings. "in cod we trust" is a (really nice) exhibition in this museum. The small red house is a cafe when the museum is opened.
My mum arrived in Tromsø today and she got lucky on her first night here – we got to see the aurora! It wasn't very active or very bright, but it was impressive nonetheless, reflecting in the water as well. My mum wanted a picture to make everyone at home jealous, so I took one of her with the aurora in the background 🙂
All for now, more photos soon!