Ti på Topp – Nordfjellet (626 m)
Ti på Topp – Nordfjellet (626 m)
Last Friday the weather suddenly changed to sunny, while the forecast for the coming days looked quite bad, so we decided to use this opportunity to go hiking. Our car finally drives again too 🙂 it still has to go to the garage, so we didn't want to go too far with it. We drove to Kroken, on the mainland, to climb another of the 10 peaks: Nordfjellet. We're quite familiar with this area; this is in the same valley. It was fun to see the same area without snow! The river was big, wild and noisy now…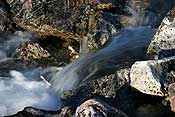 Crossing one of the many streams in the valley, and the path we followed…
At some point we turned right, straight up the mountain. Nice views of Tromsdalstinden!
There was still quite a lot of snow higher up, we had to cross a few snowfields. We finally reached the top at 23:00. In the photo below you can see the special Ti på Topp letterbox which has the "Turbuka" inside, the book you can sign.
The views were really nice, but it was COLD up there!! It was very windy, and we didn't bring any gloves or other warm clothes besides a jacket. Luckily there was a cairn where someone had built a kind of bench which was protected from the wind. In the first photo you can see the view towards the open ocean, and in the other one I am enjoying some really good Milka chocolate – this photo is especially for Irene who sent us a great supply of chocolate from Austria :))
Nice sundog… in the first photo you can see the Hurtigruten ship arriving, and in the second photo you can see its enormous shadow.
Finally some panorama's of the view…. click to enlarge. Unfortunately you can't see all of Tromsø island from the top.


On the way down we decided that walking on snow was easier than on rocks. The snow was usually strong enough to support our weight, but I did sink down to my knees a few times. It was quite steep, as you can see in the photos below. If you enlarge the second photo you can see how much snow I was dragging along in my trousers….
The light was beautiful on our way back. A last view of Tromsdalstinden….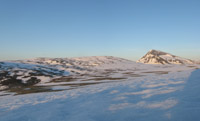 Paul with the midnight sun… and a small tree, showing how up there Spring hasn't quite arrived yet!
It was a great hike, and quite special to be there all alone that late at night. When we walked back through the valley around 1 in the morning, we did meet someone who was still going up! We got home very late, but I'm glad we went 🙂