Sun, snow & skiing
Sun, snow & skiing
Last weekend was really sunny, and on Saturday we decided to go skiing on Kvaløya (the island just west of Tromsø), with Sevim and her boyfriend. There were lots of people out enjoying the day, especially since it was the first nice day since we got half a metre of snow. And the snow was fantastic! We had a short break at a wooden "lavo" that had some deck chairs…
The sun was so strong we could sit outside in the warmth and were in danger of getting mildly sunburnt. Now that we had a Norwegian with us, we had to dig a snow bench before we were allowed to eat our lunch. Now we are experts in the technique, and learnt that you can use your ski's to sit on as well! After lunch we kept climbing, and the views kept getting better 🙂
We then enjoyed a very fun descent, we took our skins off (off the skis, we're not reptiles!) and practiced Telemark turns in the soft snow. 
The following day was even sunnier, so we couldn't resist going skiing again. We went to Kvaløya again, so we could maximise our sunshine intake – it has south facing slopes unobstructed by other tall mountains that might cause nasty shadows 😉 This time we went to a different area though. We found another wooden lavo here too…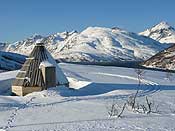 This panorama shows the mountains behind Tromsø (the largest is Tromsdalstinden). On the right you can see the island of Hakøya, connected by a bridge. The ship in the middle is the Lance, which spends every winter here in Eidkjosen. All the tracks you see in the foreground are snow scooter tracks, this area seemed to be a playground for them!

This area is quite windy and after all the fresh snow, we found some very nice snow formations, like the "wave" in the photo below. The photo on the right is taken on top of the "mountain", it's called Sjurfjellet and it's 161 m high – I felt like a lazy Sunday so we didn't climb any "real" mountains this time 😉 The views were really nice, but it was extremely windy there.
Here you can see Paul all wrapped up and protected from the wind, just before we started our descent. The clouds were beautiful, I wish I had brought my wide angle lens!
We ended our little trip at the church on the bottom of the slope. On both sides of the entrance, they had bouquets of roses frozen into blocks of ice – quite cool! I had never seen this before. They were melting and the roses were only half inside the ice block by the time we got there, but it still looked really nice.
Let's hope for the same weather for next weekend 🙂 In the mean time we are giving our muscles a much needed rest!