Kjølen and Skogsfjordvatnet
Kjølen and Skogsfjordvatnet
Last Saturday it was quite a sunny day, and Paul skied up Stor-Kjølen. This is a mountain on Kvaløya that overlooks Tromsø. It's 790 m high and has some kind of radar dome on top. 
There were quite a few people around the "football", some of them skied up from the road to Skullsfjord the way he did, and some took a gentler, more circuitous route from the main road along the coast. Here you can see the building at the top: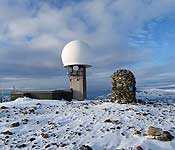 And this is the view from the top towards Tromsø island:

On Sunday the weather was quite bad with temperatures above zero and rain! We decided to go for a drive anyway, and drove to Ringvassøya, an island near Tromsø. At some point the road climbs up, and almost immediately the rain turned into snow and the landscape was much prettier. We had a nice view over Skogfjordsvatnet, it's a massive lake – more than 10 km long and about 2 km wide. It's frozen and covered in snow, a perfect flat white area, you can see it in the panorama image below. Paul climbed in a tree to take that photo! He also managed to loose his glasses in the tree, so we had to go back there to find them. They are the exact same colour as the branches, so it was very hard to see, but we did find them back fortunately. 
We drove down to the lake, and decided to walk to one of the islands in it. How often can you walk to an island? 😉 Here we started walking on Skogfjordsvatnet. The sun tried to come out for a while, but it didn't really succeed unfortunately…
We saw a family coming back from a skitrip, it was impressive seeing these tiny figures in the distance…. Paul took this nice panorama where you can see them: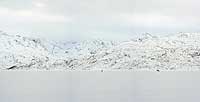 The sky was about the same colour as the snow, and it was hard to see any contrast. In the photos below we are actually standing in front of the island, behind us is a hill covered in snow. You can't see it though! It's like a perfect studio background, completely white 🙂 Good for portraits!
To our surprise, most of the island was free of snow, and had mosses and small plants growing on it. It smelt like summer!! It didn't look like it though, there was still a lot of ice/snow around.
On the way back, we stopped at the fjord. The water was like glass, and I tried to get a photo of that. But boys being boys, Paul felt the urgent need to keep throwing rocks in the water 😉 I gave up trying to stop him and just took photos of him skipping stones – have to try it again in sunny weather, as the result is quite nice!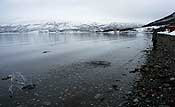 The weather has gotten a lot worse, today we had very strong wind and a lot of rain. Fortunately the rain turned into snow this evening. On our trip on Sunday I saw the first signs of spring (new twigs on some trees), I was hoping for Spring to come early but I guess not 😉