We were planning a ski trip yesterday, but unfortunately found out that our alarm clock had stopped working! A real shame, as it was a very nice day. I took this picture from our balcony, the sun is finally back for real! We saw it on Friday too, but just when we were having lunch and it only came above the mountains for about 15 minutes.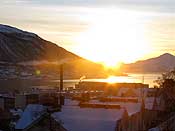 Today, equipped with a new alarm clock (vekkerklokke) ;), we got up early and drove north on the mainland. We skied to a cabin called Trollvasbu. We had never been to any of the mountain cabins before, and we stopped for lunch so we could see what they are like – very nice! Inside a fire was burning, and a dad was having a meal with two young children while 4 girls were playing cards.  This cabin had 4 bedrooms, would be nice to go on an overnight trip and stay in a cabin like this! Below on the left is where the wood is kept, and where the toilets are… and on the right the main cabin.
All the ski's next to the entrance… the ones on the left are mine! Meanwhile Paul was becoming impatient (and cold) while I was taking photos…
The dad with the two young kids was dog sledding! He left when we were just about to leave as well, so I managed to take some photos.  Both the kids are inside the sledge, it looked really cute!
The days are not very long yet, so we turned around there and went back to the car. This area is really nice, real Arctic tundra with very gentle slopes – great for my skiing abilities 🙂