The 21st of January is "Soldagen" in Tromsø – the day when the sun can be seen for the first time (since November). Actually the sun has been above the horizon since the 15th of January, but since there are some mountains in the way, it takes a bit longer to actually see it from town. Traditionally people drink hot chocolate and eat a "Solbolle". A solbolle is actually nothing more than a Berliner (a kind of doughnut, Berlinerbol in Dutch), but they have just renamed it for the occasion. In fact, during the rest of the year they are called berlinerboller here too, crazy Norwegians!
Anyway… I tried to catch a glimpse of the sun, but it was hiding behind the clouds. Never mind, it was still very beautiful. I watched it from my office, and tried to take photos, but found out that the windows are very dirty 🙂 So I braved the cold wind and walked to the end of the pier near NPI. Nice view…
In the photo below you can see the Norwegian Polar Institute (where I have my office) on the left. The strange white thing next to it is Polaria (a museum), this building is supposed to look like ice shelves but from this perspective you can't see that. The glass building to the right belongs to Polaria and houses the M/S Polstjerna, an old sealing vessel.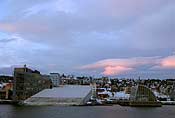 The sunset was spectacular!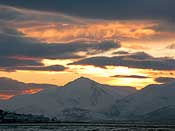 I am glad the sun is returning, you can really see the difference in daylight from day to day. I don't have major problems when it's dark, though it does seem to make you more tired (and I definitely find it harder to get out of bed in the morning when it's still completely dark!), but I do prefer longer/lighter days 🙂