Dutcher than Dutch: De Rijp
Dutcher than Dutch: De Rijp
Last week we were in the Netherlands for Sinterklaas, and we decided to go on a little trip. We had heard from Bart and Kaya about a B&B; called "Polderhuisje" – a little wooden house on its own island in a village called "De Rijp". De Rijp is a very Dutch looking village in between lots of drained land – you can't get it much "Dutcher" than there, and the good thing is that it's largely left alone by tourists.
We arrived on Sunday afternoon and we were lucky enough to have a cold but very sunny winter day with beautiful light. These are some photos of the little house – very beautiful both on the inside and on the outside. I wish it was for sale, would love to live in it 😉
The weather was so nice that we couldn't stay inside for very long. After a quick cup of tea we left for a walk. We walked from the Rijp to Schermerhorn on the dyke. In the first photo (below) you can see one of the old pump-buildings, now in use as a glass art gallery. 
There were quite a lot of people around, mostly walking their dogs, because of the nice weather. I do like the big skies in the Netherlands!
If you enlarge the photo of the small windmill below, you can see that Paul managed to capture the movement! 🙂
The light was getting better and better – very yellow as the sun was setting. 
The post below is an old border post. In the photo on the right you can see birds flying in a "V". There were so many birds there! Most of this area is nature reserve and full of birds. Sometimes they would all fly up at the same moment, incredible to watch the sky so full of birds! Unfortunately we didn't get any good photos of that. 
Sunset… the photo on the right is taken from Schermerhorn.
We left Schermerhorn at sunset, it was beautiful. There are three mills in a row there, nicely silhouetted against the sky. Paul took the photo on the right of a couple cycling, it's a bit blurred but I think it shows how magical the evening light was!
The three mills… The one on the right is a bit further away and called the Haviksmolen. The sky was very orange when we got there, such a stunning view!
Paul also took a panorama image of this mill: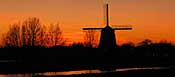 The photo on the left is Paul taking those mill photos, in the moonlight! The photo on the right is taken when we finally made it to Graft, we had to walk in the dark for the last part of our walk. I wanted to take a photo of this nice building, but of course a car drove past right when I was taking it…
When we got back to de Rijp, we found a nice restaurant to have dinner. We ate lots of interesting food, including deer and pheasant! What a nice end to a wonderful day…
The next day was unfortunately cold and grey… We walked around De Rijp for a while. It's a beautiful village, with many bridges (the one in the first photo is only wide enough for walking, not for cars!) and wooden houses on the water. 
I have also turned our walk and visit to De Rijp into a google map. You can click on the placemarks to see the photos, so you can join us for a virtual walk 🙂
For my family: I haven't done anything wi
th the Sinterklaas photos yet. I do have a photo of Mare (my little niece) and me, for the Mare-fans 🙂 We spent Saturday with Bart and Kaya, and went for a nice walk with Mare. She's great fun, laughs a lot, starts to wave and talk now too.

That's all for now! I'm back in Norwich, for the last time, which is quite strange. I will be back a few times next year, but I am not keeping my room anymore. Paul is arriving in England in a week (on my birthday 🙂 ), I'm looking forward to our Christmas break! I already bought myself a nice gift: a new lens for my camera 🙂 It arrived this morning, I'm planning to go to the Christmas market in town to take some photos there. So hopefully more photos soon!