The British Museum & London by night
The British Museum & London by night
I've had a very busy week as I was trying to finish a chapter of my thesis – finally finished it late this evening 🙂 I am heading off to Southampton on Sunday, to attend a meeting there on Monday, then flying out to Tromsø on Tuesday. It will be quite a change, from autumnal England to winter wonderland Tromsø… they had lots of snow already!
So before I head off, here are some of the photos I have been promising…
While in London in October, we visited the British Museum. The museum has a covered courtyard, which is really amazing – it's covered by a huge glass and steel roof, very impressive!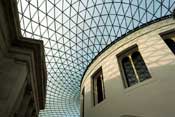 Of course the museum itself is very impressive as well. It's huge, and most of it is free (I still find that really nice, in the Netherlands museums are very expensive). We didn't spend a lot of time there, it was a very sunny day and we were more keen on enjoying the sunshine than spending a lot of time indoors… But here are some impressions from the museum:
We then went to Covent Garden for a bit, and watched the street performers – always something amusing going on there. This is the market inside: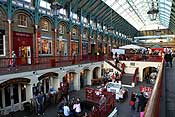 We crossed the Thames at Embankment, at sunset, with lovely views! On the other side, there are a lot of street performers as well and it's a very nice atmosphere.
We walked along the Thames for a while – the views were so nice, with the Big Ben, the London Eye and the Palace of Westminster very nicely lit. I didn't have a tripod with me, but I still managed to get a few nice photos…
That's all – I think my next update will come from Tromsø sometime next week. Till then!