I've just come back from a great couple of days in Svalbard! I arrived late on Thursday night. While the plane landed, I could see the KV Svalbard (Paul's ship) coming in to Longyearbyen. I managed to get a free taxi ride from someone and I arrived at the ship while they were still securing the gangplank – good timing! I wasn't sure if I would be allowed on board (it's an army ship after all), but one of the coastguard guys asked me: "Would you like to come on board? Shall I take your bag?" Wow, everyone was so friendly! And it was great to be reunited with Paul of course 🙂
Longyearbyen is quite a special place. It's changing from a community based on mining to one based on tourism. It was still very much winter there, and everybody moves around on snowmobiles. The first day was extremely windy (with lots of blowing snow) but we were lucky with the weather during the rest of the days – very sunny! (And very light, the midnight sun arrives in mid April here) Here are some photos of the town itself…
On Saturday the coastguard guys had organized a snow scooter tour. I shared a scooter with Paul, and spent most of the trip sitting on the back seat. Sounds like fun, but actually it's very bumpy at the back and you have to hold on tight. My arm muscles were hurting the next day! Here's a photo of the queue for the petrol station and us on the scooter – you have to wear a special suit, boots, and a helmet, like on a motorbike really.
The trip was very long – 120 km one way! We went through beautiful valleys, crossed the sea ice (with many seals lazing around) and spectacular glaciers… I often wished I had a camera on my helmet! We didn't make many photo stops unfortunately. We were with a big group (I think about 14 snowmobiles) and most of them were 19-20 year olds (doing their army survice) who were constantly racing each other. The scooters can go really fast, on flat bits of sea ice we went about 120 km/hr!
These photos are of our final destination: Pyramiden, a Russian mining town abandoned in 1998. It's bizarre to wonder through such a ghost town – there are still flower pots behind the windows and we found a workshop full of skates, bicycles and wooden ski's. We could have spent a lot more time there but after a quick lunch (including hot dogs – Norwegians are truly obsessed with hot dogs!!) it was time to head back. In the last picture you can see the world's northernmost Lenin statue…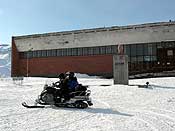 We took the same route back, and this time we did have a photo stop at a ship stuck in the ice. The ship is called Noorderlicht – it's a beautiful Dutch sailing ship. They freeze it into the ice on purpose and it's used as a hotel and a basecamp for exploring Svalbard. It won't be frozen in for much longer though, Paul's ship is going to take it out of the ice tonight or tomorrow!

Just before coming back to Longyearbyen, we decided for a little detour to the top of a mountain that overlooks Longyearbyen and the bay. The view was amazing! The sun was shining through holes in the clouds and made bright spots on the sea surface – very spectacular!
It was quite a long and tiring day (250 km in total!), so on Sunday we had a rest day. We slept a lot, and then walked around Longyearbyen for a bit. There was not a lot to see though, everything is closed on Sundays.
On Monday it was time for some action, and we decided to rent a snowmobile again. We also had to rent a gun for protection against polar bears! It was a beautiful day, and we took our time to enjoy the landscape. This time I drove a lot as well, good fun!! I was a bit scared at first but once you get the hang of driving it's a lot of fun, and a lot more comfortable than sitting on the back of the scooter 😉
We went through such beautiful landscapes, mostly very big and empty, though we did pass some huts and even another abandoned Russian mining settlement (a very small one though). We also drove close to the beach, and with the sunny weather and the very salty smell you would almost be tempted to try the water 😉
Our destination that day was the Russian mining town Barentsburg (once owned by the Dutch, hence the name). This is a working mining town! It was very bizarre to suddenly be in Russia – Paul even got a "welcome to Russia" text on his mobile. The town looks quite grim, though the houses are quite colorful and there are many murals. The people were very friendly though, we even got a tour of some science labs from a Russian researcher who was based there for a few weeks.
Things you can do only in Svalbard: walk around town with a gun on your back… We didn't actually see any polar bears, just lots of reindeer (and I'm glad about that!). We also found this hovercraft lying around… how bizarre!
Another view of the town and me eating my sandwiches on some kind of boulevard place…
Barentsburg is only about 55 km from Longyearbyen, it took us about 3 hours each way, including many stops. A really nice trip! Renting a snowmobile is quite expensive, but it was really worth it.
I flew back to Tromso this afternoon, and Paul is now back on the ship for another 3 weeks. I hope he gets some good pictures of freeing the Dutch ship from the ice! I was hoping to come back to a green Tromso (last week almost all the snow had gone), but it has been snowing again!