Another sunny weekend
Another sunny weekend
We've been very lucky again with the weather last weekend! The forecast for Saturday was so good that we decided to have a go at getting up Tromsdalstinden, the 1200m high mountain we can see from our flat (see this photo). Paul has been fascinated with getting up there ever since we've been here, and I kept saying there was NO way I would or could go up there on ski's… I agreed to give it a try but never really believed it was possible. The cable car opened for the very first time last Saturday, and we were on the first ride up 🙂 The weather was really sunny and so clear, you could see very far – so beautiful! We steadily climbed up and the views just got better and better…
Finally we reached our first top, at about 800m. Hardly anyone around, making your own tracks in the snow that was glistening like a blanket of diamonds… incredible! I really enjoyed it.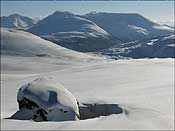 But from there you have to get down to 500m (fun descent!) and then up again. We had already been skiing for more than 3 hours and I was getting tired. And I just couldn't get up the next bit, I tried very hard but it was a real struggle. We realized we weren't going to make it to the top of Tromsdalstinden, but we wanted at least to get to the next top – Rødryggen at 776m. Finally I told Paul (who had to wait for me all the time) to go to the top alone so at least he could show me the pictures afterwards 😉 I've never had to actually give up on getting up a mountain (not that that's very impressive – I never climb any challenging ones anyway) and it was quite difficult to "admit defeat" So Paul took this panorama from there, quite amazing! Tromsdalstinden is the one on the left. I have renamed it to "the Beast" now… I will conquer it one day, but I think it'll have to wait till Summer!

Our way back was not so much fun, we were quite tired (not used to skiing so much yet), the descents very steep (and we still can't make turns), it was getting dark, we didn't know the way back very well… We finally got back at the car at 20:30, completely exhausted.
So we took it easy the next day and just drove to Lyfjorden, a tiny village from where we went for a nice walk on the beach. Below you can see the village and a cooker we found abandoned at the beach…
The beach was really cool, there were lots of interesting ice formations. Especially those "ice grapes" were beautiful!
Many of the rocks on the beach had "ice hats" and Paul had fun with those…
We walked around a point and we thought there would be some kind of path, but at times we had to climb over big rocks. Later we walked through a forest, with beautiful lichen growing on the trees!
Very nice day! The weather is still good, and I'm hoping that it stays like that for a bit longer, cause Nem is coming on Saturday! She will stay for 4 days, I'm really looking forward to her visit! I'll probably take lots of photos, but I am also going back to the UK with her next week. I'm meeting my supervisors, then taking a ferry to the Netherlands and finally fly back to Tromsø from Amsterdam – just in time for Easter! But hopefully I'll be able to update my blog before that 🙂