Hello!
Here are the rest of the photos of my week in Edinburgh!
On Tuesday morning I skipped some talks and went into Edinburgh with Stephen. Edinburgh is such an impressive city!
There was an exhibition about Andy Warhol, and they changed the pillars of the buildings in his soup cans, fun! In the other photo you can see the castle high on the hill.
This is the castle as seen from the park, and the park as seen from the castle 🙂 I love how you can see the river/ocean from all high points in the city.
We walked up Calton Hill, with many monuments on the top. The view over the city is great! This is the Dugald Stewart Monument.
This funny building is unfinished, it was meant to become a model of the parthenon in Athens, but money ran out while building it (in 1822!) and even now nobody wants to spend money on finishing it! Next to it a panorama of Arthurs Seat (the name of the mountain) taken from Calton Hill.
These two photos are taken on the Heriot Watt Campus:
On Wednesday evening there was a Scottish Evening at the conference: whiskey tasting and a ceilidh! A ceilidh is a dance evening, where they teach you the group dances, good fun!
Patama and me as serious whiskey tasters, and a girl dancing over swords!
And a photo of the dancing, it was a fun evening! I danced with one of the dancers from the group, a "real" Scottish guy in kilt and all… I thought that was really cool, but the reason I say "real" is because I later found out he was actually Dutch!! Cheating!!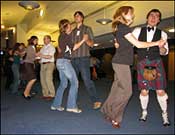 On the last evening there was a formal conference dinner, in Dynamic Earth. Great place to have a dinner! It was right next to the Scottish Parliament (cool building!) and Arthurs Seat is just behind it. Just before dinner it was colored red by the sunset and it looked more like Ayrs Rock 😉
I took the train back to Norwich the next morning, it takes nearly 6 hours. But it's very beautiful, especially the first part when it follows the coast. Look at this place, I would love to live there!
Unfortunately I took a bad cold back from Edinburgh and I spent some days on the couch feeling sorry for myself 😉 Celia was here for a few days though, so that was fun!
And now it's time for weekend 🙂
Hanneke