Norfolk Coastal Path
Norfolk Coastal Path
Hello!
Over the past two weekends we have walked part of the Norfolk Coastal Path. On the first Saturday we walked from Wells-next-the-Sea to Blakeney, and a week later we walked from Burnham Deepdale to Wells-next-the-Sea, in total about 30km. It's a very pretty trail, you don't get to see the sea very often though as there are big salt marshes between the path and the sea.
This is Wells-next-the-Sea! There is always a Dutch boat in the harbour, usually a large one that sells pancakes and erwtensoep (pea soup) – quite funny!
The weather was nice that day! We got sunburnt on our right side, as we were walking towards the east all day 🙂 We played with the macro program of the camera and took some photos of critters and flowers we found along the way:
We had to hurry a bit to reach Blakeney on time, as we had to catch the last Coast Hopper back to our car. This is a bus that drives the whole coastal route, from Cromer to Kings Lynn, a very good service! These are some sailing boats in a stream, and a view of Blakeney from a distance.
The grain looked so soft, made you want to dive into it, hehe 🙂 Most villages in Norfolk have a village sign, some are quite pretty!
A week later we decided to do another part of the trail, even though the weather wasn't as good. We were lucky though, we didn't get rained on at all. We started our walk in Burnham Deepdale, and finish where we started last time – Wells.
Paul took photos of those drops on a spider web – very cool!
The first part of the trail followed a dike through the marshes, with many flowers!
Paul took one of those cigar cane things, looking like candy 🙂
Even though the skies were grey, the views were still pretty. And lots of birds, I missed my zoom lens!
And these are quite common here – makes me feel at home 😉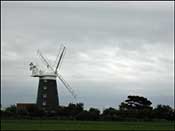 This is Burnham Overy Staithe, one of my favourite places on the Norfolk coast.
From there we walked to the beach, and even though the Coastal Path goes through the dunes, we wanted to walk on the beach, much more fun! The beach there is very wide.
We passed Holkham Beach, and continued our way towards Wells. Just before Wells there are many colourful beach houses, a pretty sight!
This time we were back on time, we even had time for a cup of tea before catching the bus back to Burnham Deepdale. It's a great trail to walk, I'm looking forward to do more of it! The weather here has been very bad though, we spent the rest of Bank Holiday weekend inside as it was pooring with rain all day. Our windows started leaking, and in front of our flat, a tree fell just because of the rain!! I was amazed how it could rain like that for days on end. It has improved a bit now, so hopefully the weather this weekend will be a bit better! We are still planning a bike trip to Suffolk, but we are waiting for sunny weather 🙂
Till next time!
Hanneke