Thetford Forest
Thetford Forest
Hello!
It's more than a month ago that I went on a trip to Thetford Forest, but I still wanted to share the photos 🙂 Patama and I took our bikes on the train to Brandon (taking your bike on the train is free in the UK, really nice!), then we cycled from there to Thetford Forest. It's very nice there! We cycled to the information centre, where we got a map of the bike trails. We did one of those, which was good fun! But my bike is not really made for off road cycling, so I got a flat tire in the end. I was able to fix it though, but a few days later I decided to exchange my racing bike for a mountain bike, much better!!
Nice and clear river!
It was a very warm day, so we decided to try the water 🙂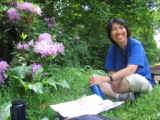 Lunch break in the shade, before starting the bike trail
We even saw water snakes in a small pond next to the trail! We tried to take a shortcut back to Thetford, we almost got run over by fire trucks appearing out of nowhere. Somebody of the Forest Service asked us where we were going, and he explained us a nicer way of getting back to Thetford, avoiding the busy road. We had to follow a walking trail for a while, only we forgot to get off it at the right moment, so we almost got lost and had to go back!
In Thetford we found those ruins while cycling to the train station. They are the ruins of Thetford Priory, and quite impressive!
It was a really nice day and I definately want to go back to Thetford Forest again.
I'll try to put some more photos online in the coming days. Everything is going well, my model is working so I am finally working hard ;). I am going to London for the weekend with Tanja, from Friday till Sunday. We want to visit the Museum of Natural History, the Science Museum, see a musical… I think it will be a fun weekend!! More on that later 🙂
Bye!
Hanneke