Blakeney Point
Blakeney Point
Hello,
I am way behind with updating my blog, so I thought I would put some new photos online…
Last Tuesday I went to Blakeney Point with Johannes. He left Norwich for three months, so we decide to take this last opportunity to go somewhere! And this time we had a car 🙂 Blakeney Point is north of Norwich. We left at 8:30, to get there at low tide. It took about an hour to get there, the last part on a very small road.
We parked the car on the car park at the beach of Cley next the Sea. From there, we started walking. This is what Blakeney Point looks like: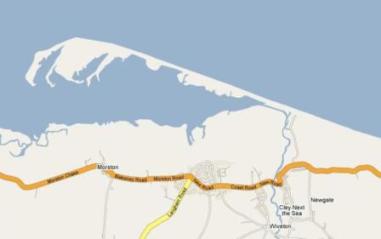 It's about 4-4,5 miles to reach the far end of Blakeney Point, and it's partly gravel, so heavy walking!! We saw some people, but we had the beach mostly to ourselves…
Our mission for today was to see seals, and that turned out to be a very easy mission, cause there are SO many of them at the end of Blakeney Point!! It was great to see them like this.
We couldn't come to close, when we did, they all went swimming and it was funny to see all those little heads looking at us from the water. We planned to have lunch with them, but since they were too shy, we had lunch in the dunes. We were lazy for a while, resting from our long walk. But then it started raining! I told Johannes: you'll see, as soon as I have my waterproof trousers on, it will stop raining. And indeed 😀 Johannes was wearing a very fashionable poncho, I couldn't help laughing… Dracula visiting the dunes 😉
That last picture is the ecologist destroying the fragile ecosystem of the dunes… hehe 🙂 From the top of the dunes we had a nice view towards the village of Blakeney (on the other side of the water), and some buildings nearer by.
When it was sunny we had another stop in the dunes, Johannes was sleeping and I was chasing butterflies 🙂 Finally I managed to take this photo, if you click on it, you'll see that another critter found its way into my photo, I didn't see it while I was taking the photo! I also took some other macro photos of natures art 🙂
apparently somebody took the trouble to collect all the shoes found on the beach: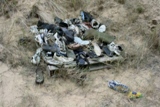 Walking back it was getting high tide, and the waves were very impressive!! I wanted to go swimming, too bad I didn't bring anything. We found a tennis ball and played with that for a while, since Johannes wasn't always able to catch it, he had to save it from the waves every now and then… hehe.
There is this old rusty boat lying close to the beach, it's really cool! In the background you can see Cley next the Sea, they have a nice windmill there.
We finally made it back, it was after 15:00 already!! We were exhausted, we walked a lot and it was not very easy walking. We thought we deserved some ice cream but the (weird) shop at the parking place had closed. So we drove to Blakeney and had ice cream there. You can see the seals from boat trips starting in Blakeney if you are lazy 😉 I also took a photo of the place we bought our ice cream, these houses are typical for the Norfolk coast. I like them!
After that, we drove back to Norwich taking all the smallest roads possible… They scared me a bit at first cause they are so narrow that if a car comes from the other side, you have to stop and find a way to pass each other. But I got very experienced after doing that all the way back to Norwich, and you get to see really beautiful places like that!
We came back home really tired, but it was a great day!! I even got a suntan 🙂
In the UK Ascension Day is not a day off, but we have Bank Holiday on Monday, so we have a long weekend anyway. Veronika, Patama and me are planning a trip to the coast tomorrow, and we hope to go swimming!!
I hope to find some time to put more photos online soon!!
Hanneke