Monopoly, Lunchboxes & a lot more
Monopoly, Lunchboxes & a lot more
Hello!
I've been quite busy lately, but I'll try to give an update of what I've been up to.
I didn't get the house that I visited a while ago, that was disappointing because it was really nice and in a perfect location. But I'm sure we'll find something, it's only March… And if not, there's nothing wrong with the house I live in now.
Last week I did the Transitions course for PhD students for 4 days. I've learnt a lot of useful things there, but I've also been really bored and even annoyed. The woman who was teaching us presentation skills was chewing gum ALL the time, how am I supposed to take her seriously?? We had to do a presentation which they filmed and we had to look at it to see how we did. I thought it would be horrible, but it wasn't too bad. I did fine, they said I talked a bit too fast. Hehe I know I have this problem in Dutch, I guess it's a good sign for my English that I do it here as well. Oh and to show how mature we PhD students are… the first day we made drawings, played with Lego and did roleplays!!
On Thursday night we organized a dinner/monopoly night at Paola's place. We gave her the Norwich edition of Monopoly for her birthday, so we had to try it out of course 🙂 It was fun! Here some photos of that night, click to enlarge.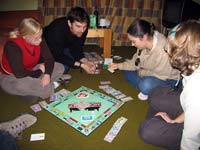 Veronika, Johannes, Nicole & Veronica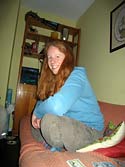 Yeah I was there too 😉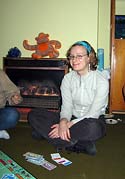 Veronica next to the nice fireplace 🙂 (almost real!!)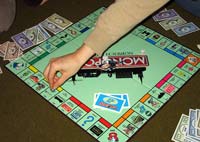 Monopoly the Norwich Edition, including UEA 🙂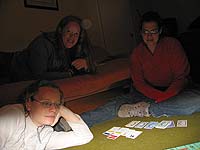 This would have been a really nice photo if Nicole didn't put her finger in front of the flash… Veronica, me and Paola.
Other news… I bought tickets to come home for Easter, I will be in the Netherlands 13-18 April. I'm looking forward to being at home for a bit, hope the weather will be nice. I'd like to do some biking, get some photos of the flower fields that should be in bloom by then, fly my brothers kite on the beach… Paul is turning 21 on the 15th of April!
And some sad news… Many of my friends are not happy in their PhD here. Both Paola and Nicole have now decided to stop their PhD. Paola is trying to get another PhD position in Barcelona, and Nicole is going back to the USA. I am going to miss them so much!! Fortunately, Nicole will still be around for a while, at least until the Summer. Nem and me are trying to look at the bright side, we will have 2 nice destinations for our holidays 🙂
To finish, a bit of advertisement… My brother is in a project group for his school, and they invented a foldable lunch box. They are selling really well!! I have one (a blue one of course!), and I've already sold about 14 of them here. It's such a great idea and they look very nice too. I use it at work every day, after lunch you can just fold it out so it doesn't take much space in my bag. Here's an example, in a color that they don't sell but well.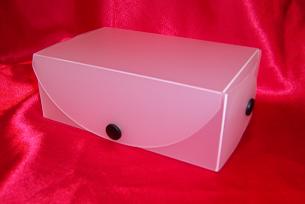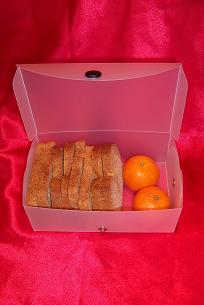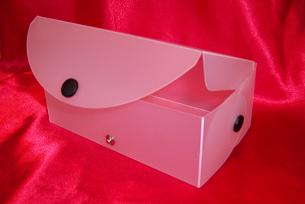 Check out their website: Motifive The website is only in Dutch, but if you are interested in getting one, drop me a line.
That's it, I've had people complaining that I write way too much so I try to keep it a bit shorter. I've been busy with work and with social things, lots of concerts, dinner, lunches, parties… Last week there was the International Party at the university, very good party! There were performances from different countries, like Mexican dancing, Japanese dancing, Spoken Word from the USA, Capoeira from Brazil, etc. It was really nice, I had lots of fun 🙂
This weekend I have a Dutch dinner 🙂 With Erik and Dorothee, 2 researchers here in ENV. They both studied in Wageningen hehe, though a long time before me 😉
I was also planning to get out of Norwich and take some nice photos, I haven't done much photography lately, haven't used my SLR camera for ages!! They say it will finally be a bit warmer this weekend, but they are also expecting rain 🙁
I'm still planning to do a Norwich by Night photoshoot some time. That way my tripod will get some excersise as well hehe.
Anyway, I was going to keep it short 😉 have a good weekend everyone!!
Hanneke