Cycling in the Netherlands
Hello!
I've got lots of photos from our trip to the Netherlands a week ago, here's a selection! Warning: very long post 🙂
The flight was amazing, we flew straight towards IJmuiden, which is 6km from my parents place so a place I know very well, then turned southwards following the coast until Noordwijk, then turned eastwards and then back northwards towards Schiphol. I saw so many places I knew: Velserbroek, Haarlem, Nieuw Vennep…. With my parents we traced back all the places in the many photos Paul took, and even our village was on it, but you can't see much because of the trees.
This is IJmuiden and a fun picture of the landing:
We left for our cycling trip the next day. My parents were very helpful, and brought our bikes to Gouda by car while we took the train. We spent some time wandering around Gouda, Paul had actually been there before but I hadn't! Maybe that's why he was more excited about Jamin, a big chain of sweet shops that was his first stop in Gouda…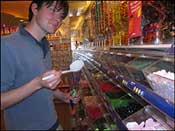 Gouda is a very touristic place, famous for the cheese and also the origin of the stroopwafels :). There are some very pretty buildings and it's a pleasant town to wander around.
We started our trip quite late in the afternoon. We cycled along the small river Vlist to Schoonhoven, then crossed the river Waal by ferry. We cycled on the dike next to the river for a while, which was hard work with the wind coming from the wrong direction! We stopped for a while in a field, the weather was perfect…
Our destination for that day was this campsite just before Leerdam. A great place, campers and caravans were not allowed so just for tents… Lots of space, nice people and some great art on the campsite too! I really liked these statues made of scrap rusty tools! If you click on the thumbnails, you can see what they're made of: the ball all made of spanners, the dog of shoemaker's tools and the skeleton of kitchen tools.
This was the view over the field next to the campsite, with a farmer mowing the grass: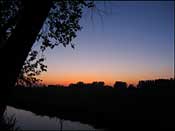 We went to Leerdam at night to get some dinner. Leerdam is the name of another cheese, but you won't find much about that in the town. It's more famous as a glass town. There is a glass museum, glass blowers centre, factory and many art galleries. Quite fun! We found this artwork on a square:
The next morning we cycled to Leerdam again, we spent a long time there. It's a pretty town, this is on the city wall:
We visited a gallery and the Glass centre where we saw glass blowers at work, very impressive! It was interesting to hear that there are hardly any Dutch glass masters left, this girl was American and all other people there were Czech.
There was also a shop that showed the work done, too bad it's not a good idea to take glass items on a cycle trip 😉

It was quite late when we finally left Leerdam, but we had another stop very nearby: Fort Asperen. This fort is part of the "New Dutch Waterline" used to flood parts of the country as a defence against enemies. It was last used in the second world war. The building is a very impressive round fort, with very thick walls. The lower floor was actually flooded!
We cycled along the river Linge for a while. We passed a place called Acquoy, a very unusual place name for the Netherlands. It has a church tower almost as skewed as the Pisa tower, and the joke of the town is that there is actually somebody named Pisa burried in the cemetary… see this photo:
Look at this cat, it found a nice place in the shade 😉

We cycled to Maurik, on the Rhine. We found a very cheap campsite there. Here is Paul not quite awake yet, hehe. We had great weather on our trip, but as it was only early May, the nights were still cold.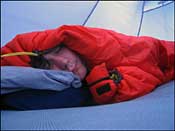 The next day it was only a short cycle ride to Wageningen, our destination! It was fun to be back in places I hadn't seen for so long! It was a beautiful ride, on car-free dikes. In the other photo we are crossing the Rhine from Opheusden to Wageningen.
We briefly visited the Blauwe Kamer, a nature reserve that I used to visit frequently, before setting up our tent on this farm campsite.
The campsite was in an ideal place for visiting Wageningen, only 10 minutes by bike. That night we had a BBQ to celebrate Celia's birthday (the next day). Rob and Ingeborg were there as well, it was fun to catch up with old friends, I hadn't seen them in 1,5 year!
Paul was very impressed by the student flats in Wageningen, they have a great view 🙂 Gert-Jan lives on the 16th floor!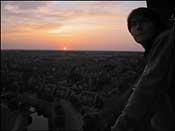 We spent the whole next day in Wageningen at the festival, with Celia and Gert-Jan. It was great, lots of good music and acts, great weather and it was nice to see Wageningen hasn't changed much and it felt like going back in time… still saw people I knew all the time!
We really liked this girls performing! I also took a photo of this couple who just looked so happy and enjoying the music, I thought it was cute.
They gave away free bubble mix at the festival so there were lots of bubbles around, here is Celia blowing some:

This is one of the acts, and people relaxing near the water:
In the afternoon there was the defile, a parade of veterans of the second world war, and other wars afterwards. There are not that many veterans left, they are quite old now! It was impressive to see, though it was way too long. It took more than 2 hours and it was very hot weather, so we didn't stay till the end. There were also some actors acting out the liberation.
We went back to Gert-Jan's place for dinner. Paul took this photo of me on my bike (well my sisters bike actually).
The next morning when we broke the tent down for the last time, it started raining and it hasn't stopped since… we were so lucky! My parents came to pick the bikes up from the campsite, and we took the train back. We had a short stop in Utrecht:
That day we didn't do much. We went for pancakes at night with some of my friends from high school, who I also hadn't seen for a long time, so that was really fun!
The next day I had to visit my cousin in Amsterdam to do an eye test and order new lenses. She's an optician and owns this shop. As all tourists, Paul was very impressed by the multi level bike parking next to the station in Amsterdam 🙂 He also took this crazy photo of me during my eye test, that he later photoshopped to make it worse… hehe.
That night we flew back to Norwich. It had been such a great trip, and I can't believe how lucky we were with the weather! The weather here has been bad ever since we came back, it's more like autumn!
That's all 🙂 take care!
Hanneke