Looking back: July & August 2018
It's mid September and I still haven't posted anything from July or August. I've been postponing it, as these two months are not easy to write about. This past summer was so full of extremes, and I'm not talking about the extreme heat and drought, which in itself was crazy. It was more that life took us on a crazy rollercoaster, from extreme happiness to extreme sadness. I've had this blog for 13 years now, but I tend to write about adventures (small or big) and not what goes on in my personal life. This time however, I feel that I can't just skip over everything personal. So I'll try to share some of it in this post, but of course I'll still show you photos of whenever I found something pretty to capture 🙂
In early July I met with a former colleague from Tromsø in Wageningen, she was there for a conference. We had a nice dinner outside while catching up, and since it was such a lovely evening we decided to go for a walk afterwards. We found some nice quiet paths near the river to explore…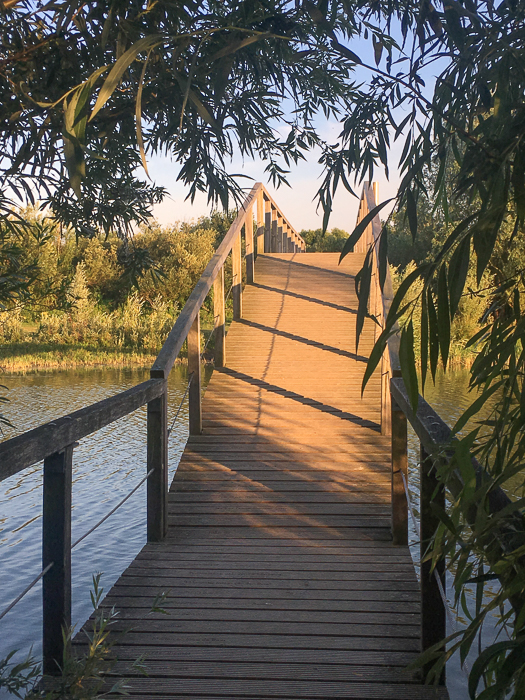 The atmosphere was almost magical with those sunset colors, cows in the water and church bells ringing in the distance.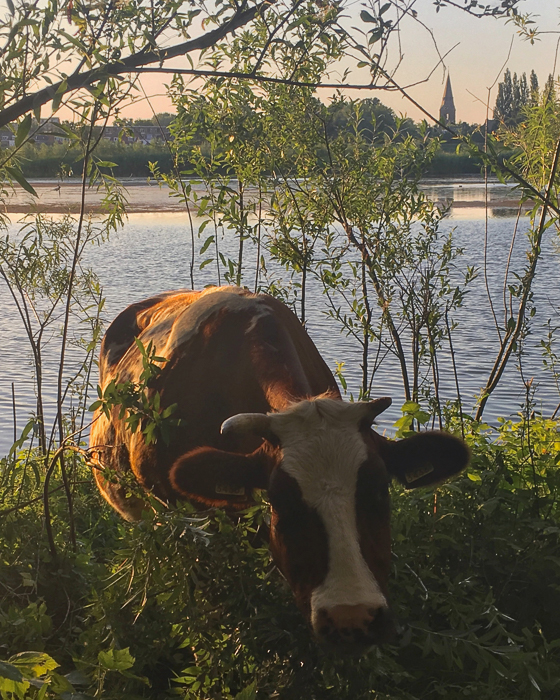 The path we followed…
Sunset and a happy Hanneke who really enjoyed this beautiful evening!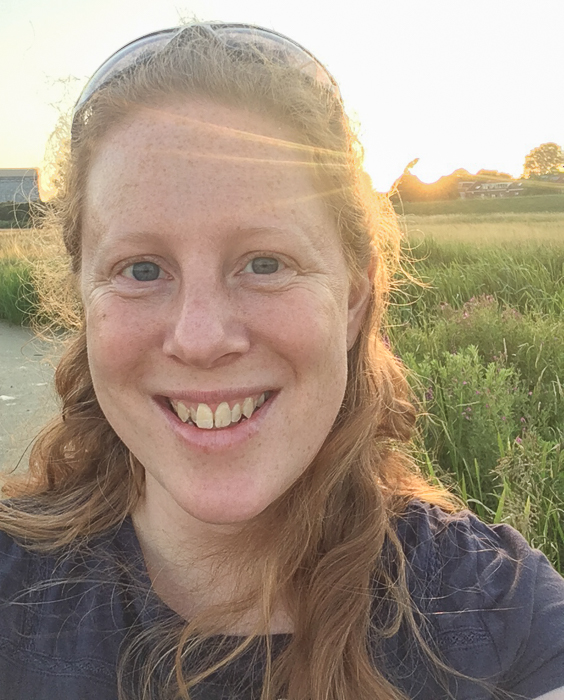 A couple of days later we drove to Amsterdam for a concert I'd been looking forward to for a very long time: Paul Simon!!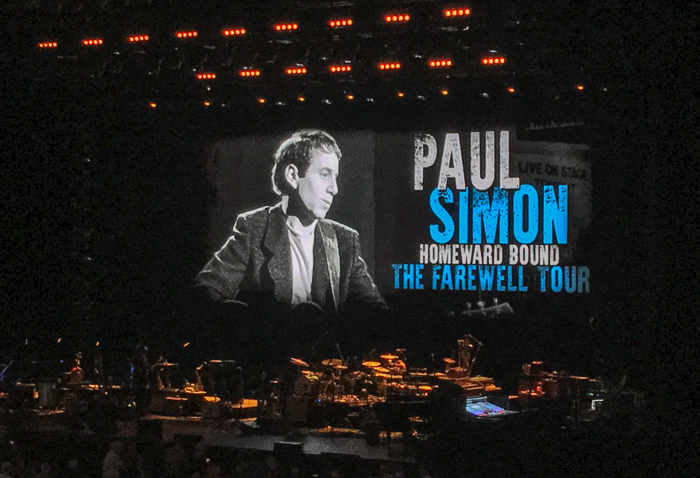 We had good places and the concert was AMAZING! It gave me goosebumps to get to see and hear him sing. He's 76 and I find it incredible that he still does huge shows like this – and I totally understand he wants to retire now. He brought really good musicians as well, they were a joy to watch as they obviously loved every second of the show.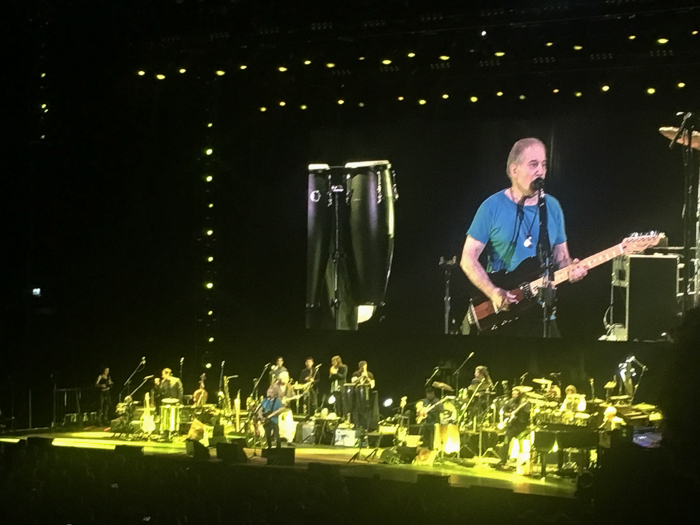 Early mornings at work are less painful when the view is like this…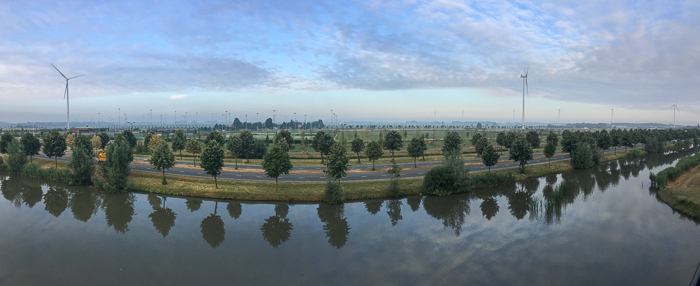 A nice view of a mill while walking through Gorinchem on the way to another viewing of a house. Another sunny and warm day, and the colour of the grass shows how little rain we had that month!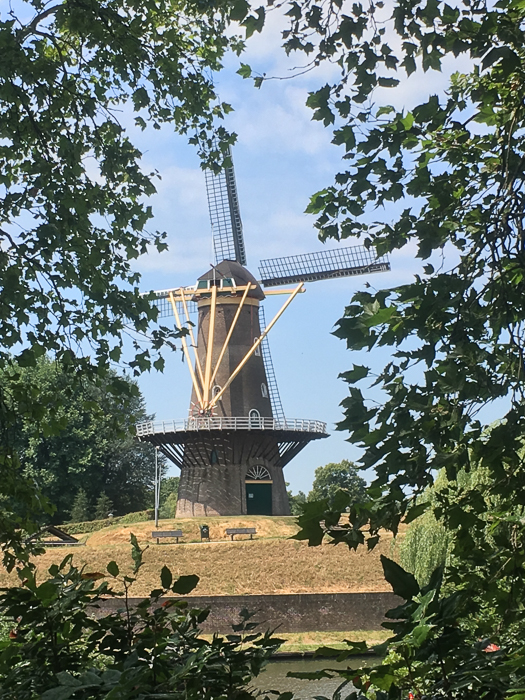 The house we went to see was this one – and we both fell in love with it. We loved the amount of space, how it was surrounded by green, how it's on a quiet dead end street with plenty of parking, the large balcony, nice garden, and all this less than a km from the beautiful city centre of Gorinchem. The next day, on Friday the 13th, we made an offer and it was accepted!! We could hardly believe that we finally got lucky and we were so happy!! We celebrated with ice cream that evening on the first night of North Sea Jazz 🙂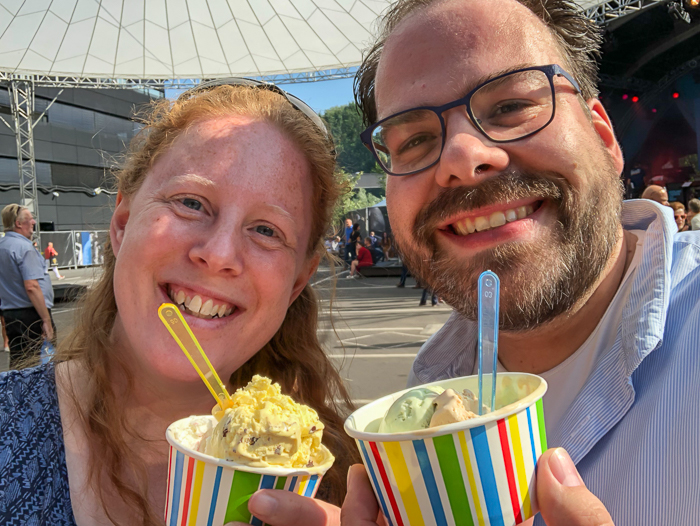 North Sea Jazz was really great. We went for 2 nights in a row. The highlight for my was Gregory Porter singing Nat King Cole with the Metropole Orkest, it was fantastic 🙂 The photo below was taken at the cider bar, my favourite place the year before – but this year I was drinking ice tea and apple juice… For a very good reason: I'm pregnant and we're expecting our first child in February! Exciting times! But that's also why I haven't been taking many photos, for the first 12 weeks I was exhausted and most food repelled me. A few days after this photo we had the 12 weeks ultrasound and we finally decided to share the news with everybody, which was a lot of fun.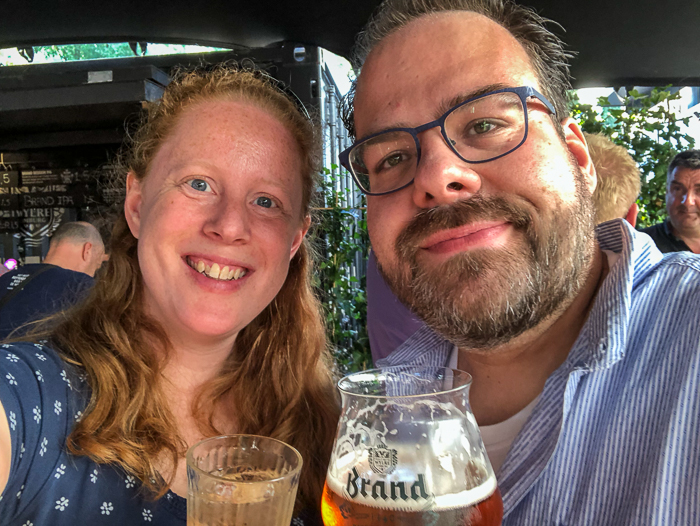 A random photo taken in the July heat – this is where I work!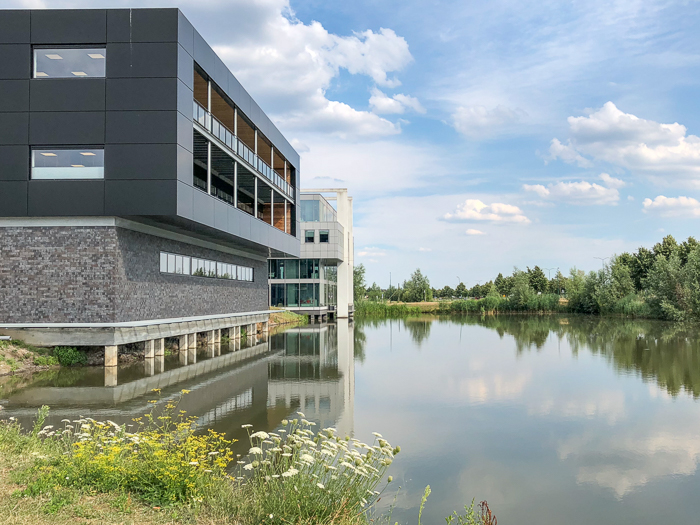 Later that week we had a summer dinner with my family! No idea why my sister was wearing her helmet at the table, it was probably part of some joke that I can't remember now 😉 it was a nice evening!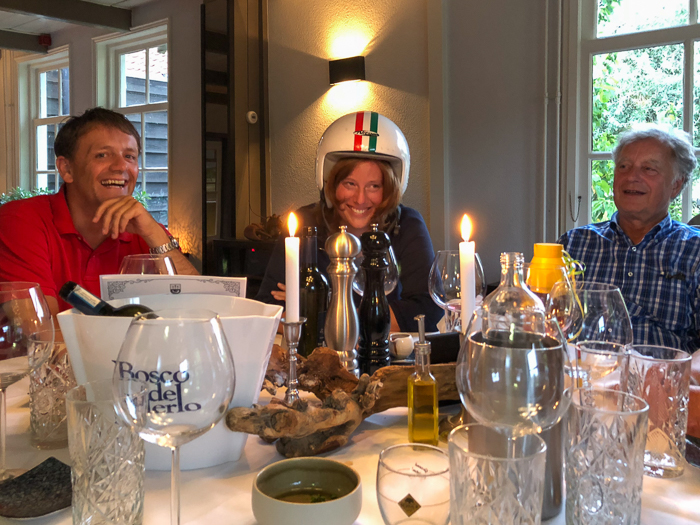 We had an inspection of the new house done (luckily no issues were found!) and after that we signed the preliminary contract – YAY!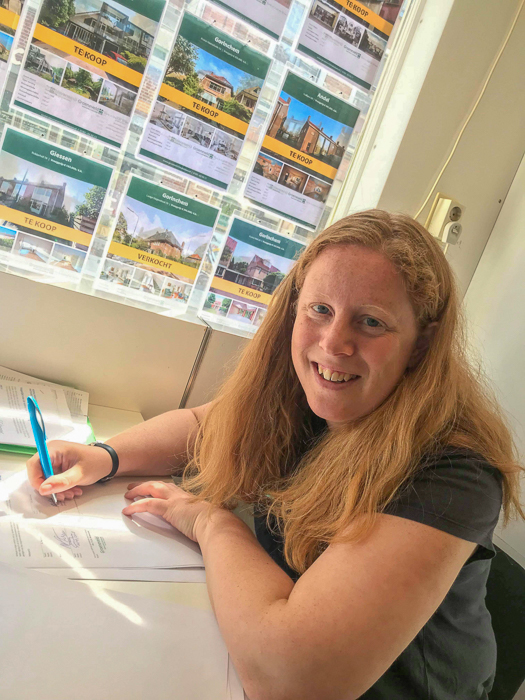 My parents came to Gorinchem for the inspection (as they wanted to see the house) and they stayed near the river in their camper. The photo below is taken by my mum, but I love it so much that I wanted to share it here 🙂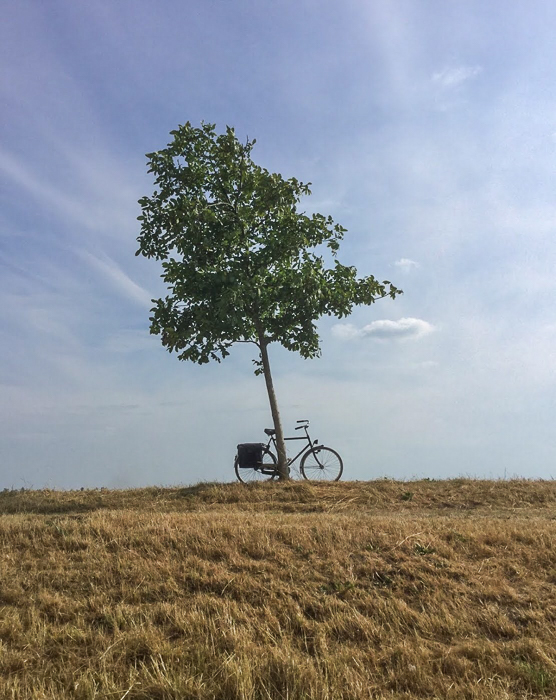 That weekend we went to a party in Wageningen: Michiel's aunt turned 70 and she celebrated with a big garden party, with nice food and live music…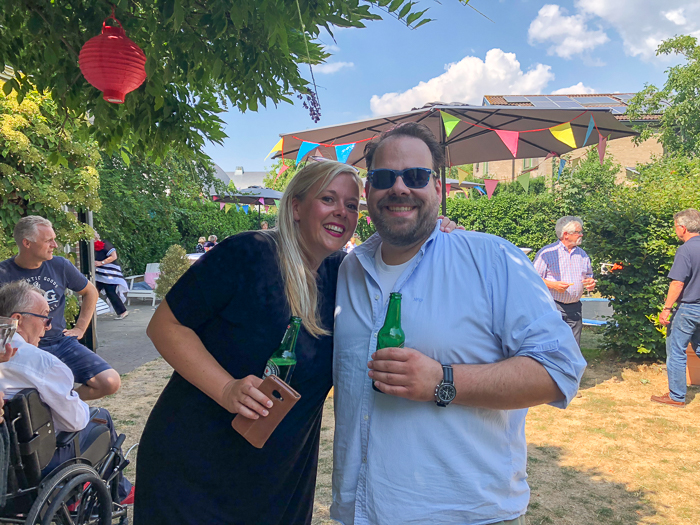 The birthday lady herself 🙂
At the end of July, finally some much needed rain…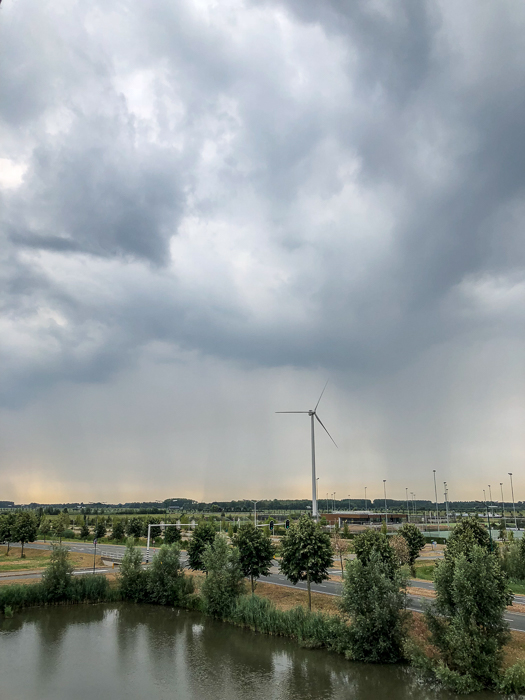 I even saw this shelf cloud from our kitchen window – nice!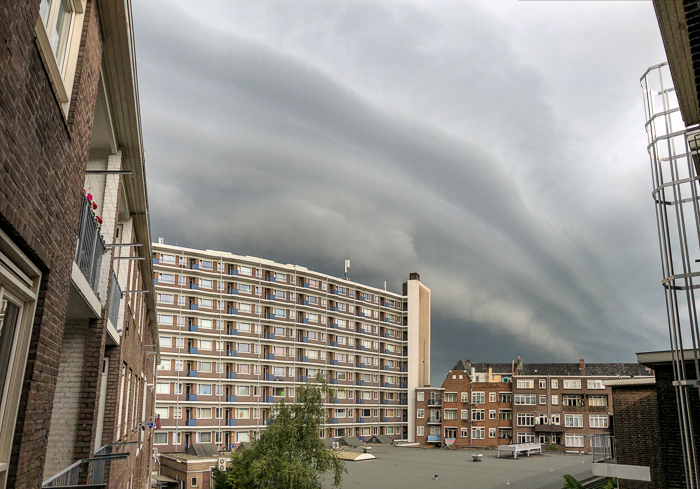 This photo makes me laugh, I was ready for a sleep test then. I've been going to speech therapy lately, as I had some problems with my voice. The speech therapist sent me for a check at the hospital, to see if anything was stopping me from breathing through my nose (I've never done that…), and for some reason the doctor at the hospital made me do a sleep test. It looks hilarious, but I was really not amused when they connected everything like this at the hospital and I had to cycle home looking like this!!! I just wanted to hide in the hospital's toilet and wait until it was dark! Luckily we live close to the hospital. Oh, and spoiler alert: nothing worrying was found with the sleep test. I'm totally fine.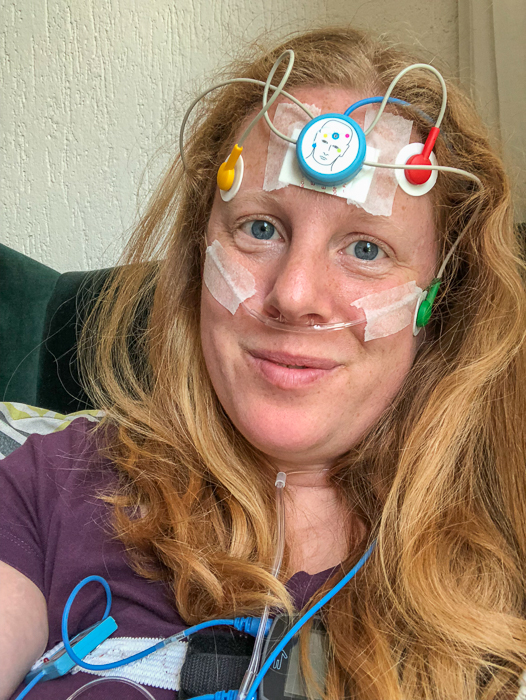 The next day I happily returned all the gear back to the hospital (luckily I was allowed to remove it myself before cycling there!). I was finally starting to have more energy and I decided to go for a walk at the coast at Oostvoorne. It was a beautiful day and I enjoyed the fresh air and nice views…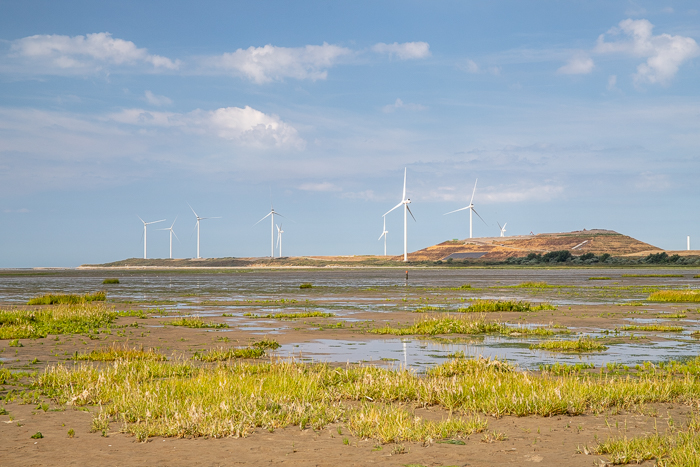 But while walking on the beach there I got a phone call from Michiel. His mum had just had some very bad news at the hospital, it was not looking good and he was on his way to Wageningen. She'd been struggling with her health for a couple of months and they never really found what was wrong, other than some issues with her back which were giving her a lot of pain. But now they had found something, it looked like a tumor and it was bad news. Not knowing much, I drove back home, packed a bag with clothes for a couple of days for both of us and drove to Wageningen as well.
And although we knew the news wasn't good, who would expect we would not come home until 7 days later, defeated, having to prepare a funeral… I felt like I got 10 years older in 7 days time. His mum was brave and strong, consoling us more than we could console her. We did still have time to say goodbye, and time to say all we wanted to say, and for that I am grateful. But losing her in our life, and for our little one to not have her as her biggest fan, that hurts so much. Life can be so so unfair!
One thing that helped us through that week is that my parents decided to stay nearby in their camper. Every now and then we had a little break visiting them, like here where they stayed at a beautiful place near the river.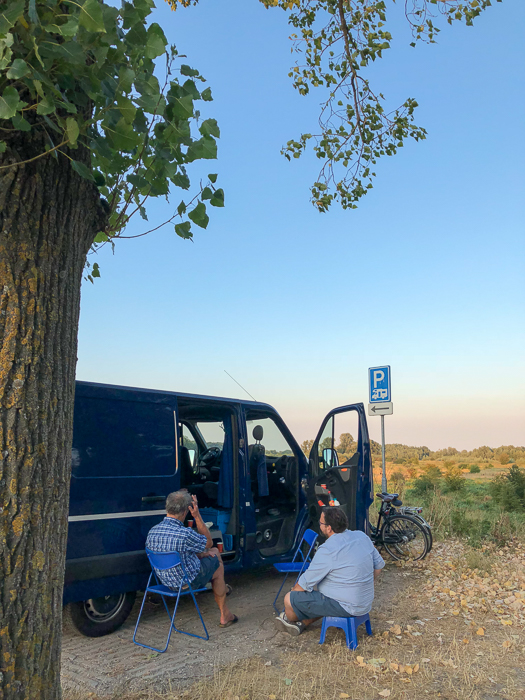 Then came a busy time where a lot had to be organized, first of all the funeral. We managed to organize the ceremony in her sprit, there were a lot more people than we had expected and asking for a single sunflower instead of bouquets resulted in a sea of yellow. The jazzband she always listened to offered to play at the end of the ceremony and that was just beautiful.
The day after, we went to stay at a boutique hotel near the beach, just to have a little break and a sort of closure. It was relaxing and it did us good. From the balcony we looked over the dunes, a very nice place.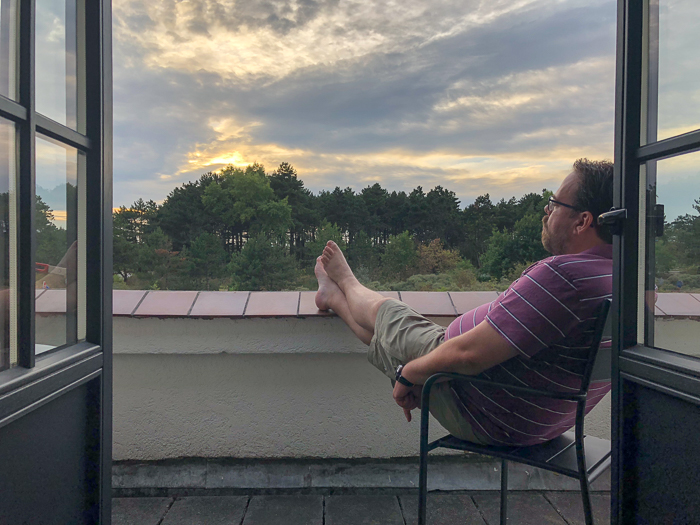 The next day was our anniversary… It felt a bit strange, but we decided to celebrate anyway. Michiel's mum's motto in life was: ENJOY. She said it all the time, sometimes it made me laugh… but she was so right of course, and now it was more clear than ever: enjoy every single moment in life, you never know what happens tomorrow. So to celebrate our anniversary, we made our own hamburgers 😀 a nice tradition!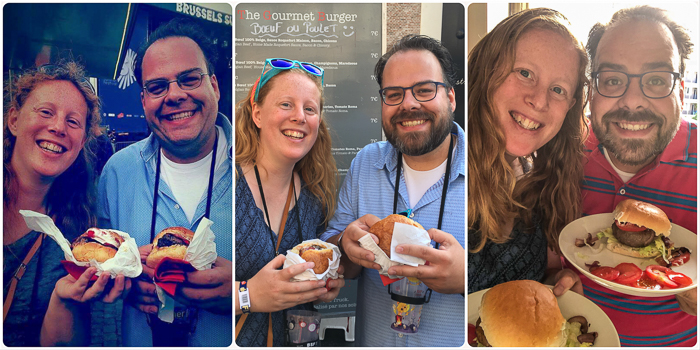 One Friday we went to sign the mortgage papers (another step closer to being home owners!). Michiel had an appointment in Amsterdam that day, and I decided to come with him and visit my aunt. This photo was taken from the Magere Brug (Skinny Bridge) close to where she lives. I loved having the Dutch skies back – the heatwaves of this summer made the skies boring for a photographer 😀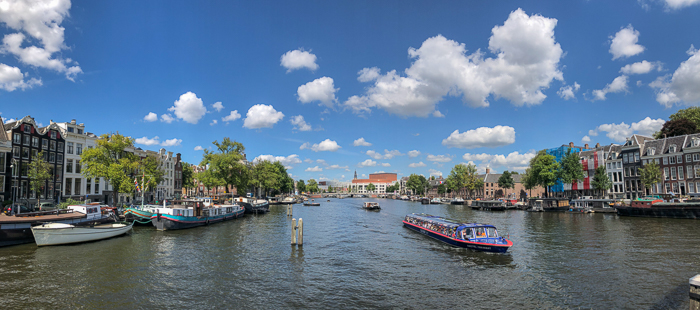 After visiting with my aunt, I walked to the central station. It was such a nice day…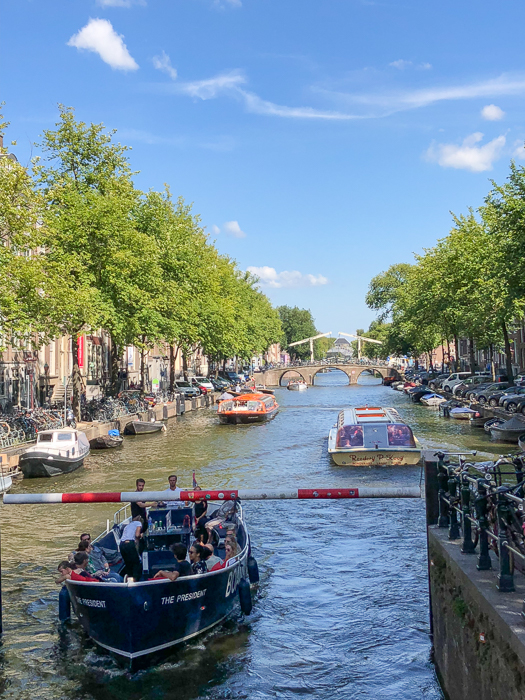 Pretty!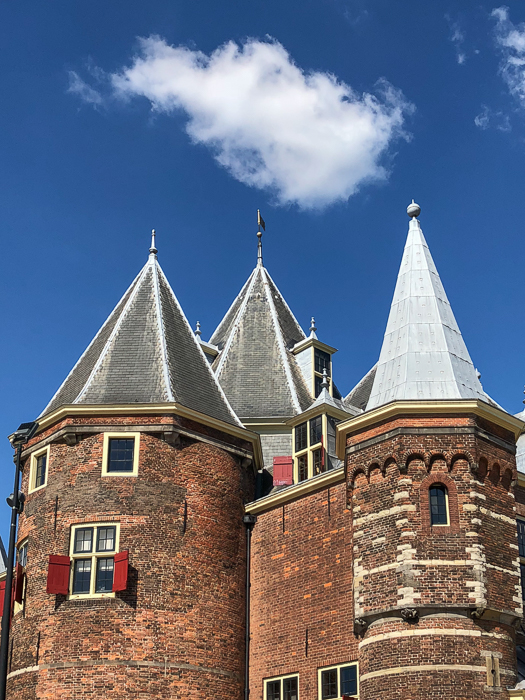 From the central station I took the free ferry to the NSDM wharf. Michiel was visiting a colleague who lives in that area. I had never really been here, it's a really cool area to explore! I loved this large mural of Anne Frank…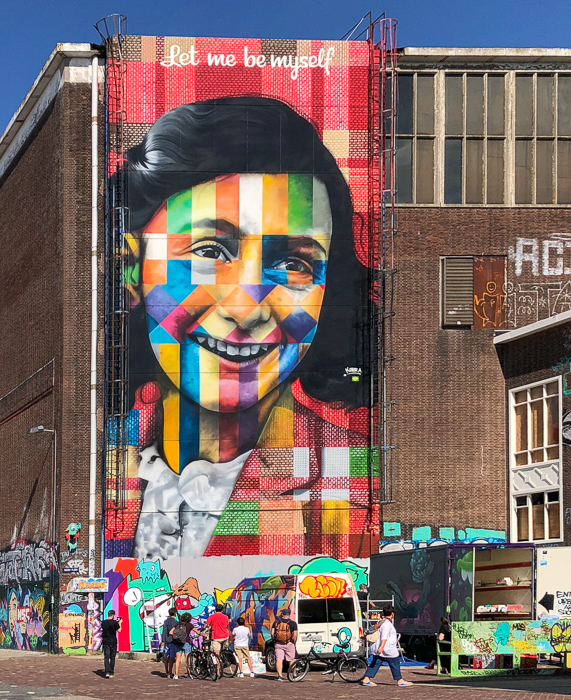 And I loved watching more graffiti in the making…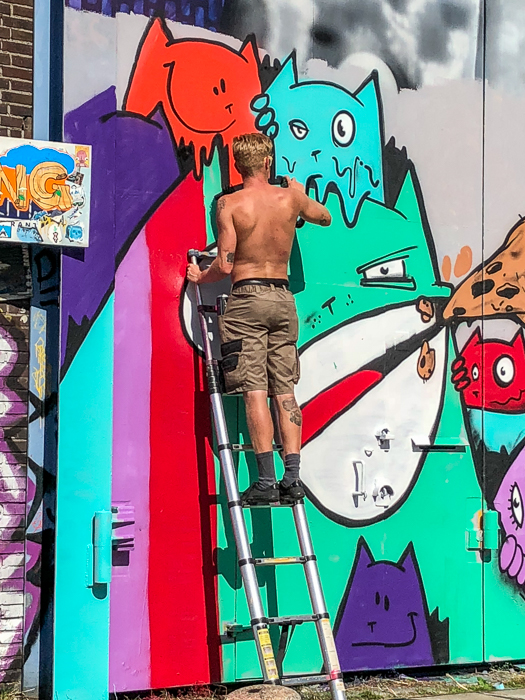 Later in the month I finally had time and energy for my favourite bike ride to the mills again…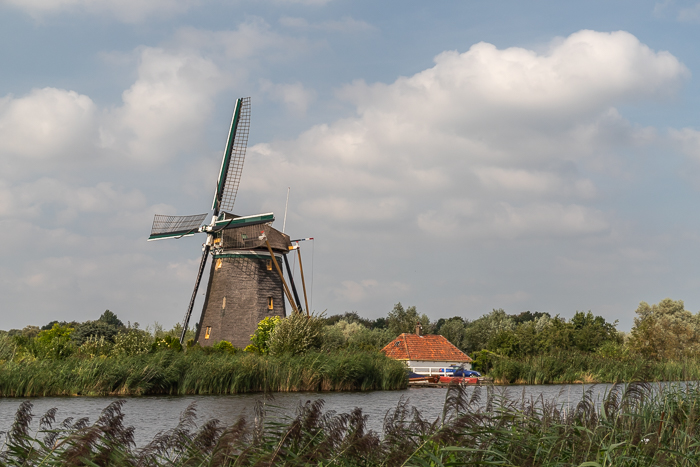 This short (about 10 km) bike ride never disappoints and I always find something fun to take photos of 🙂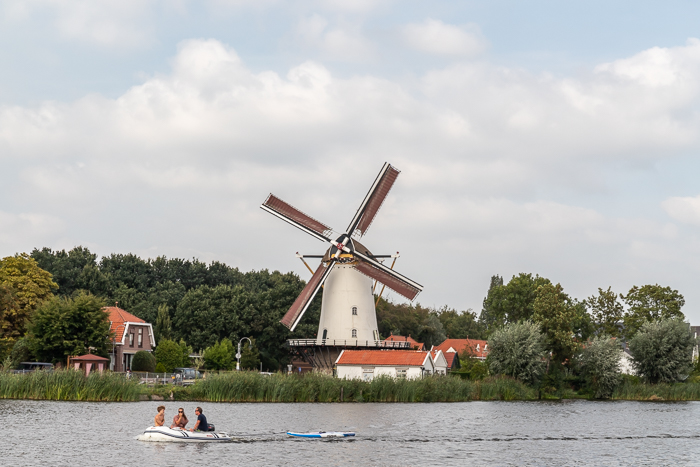 I sat on the dike for a while, enjoying the nice weather and the liveliness of all the boats on the river and lake.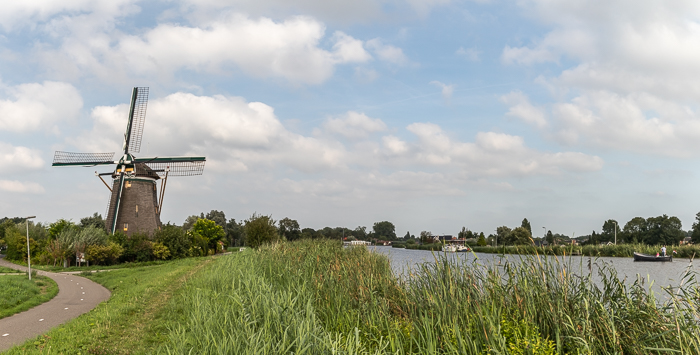 One thing I really miss while being pregnant is sushi! One day I decided to order some anyway. Vegetarian sushi as well as "safe" (nothing raw) fish for me, "real" sushi for Michiel. See how happy that made him 😉 As for me, well… it's just not really the same… sigh 😉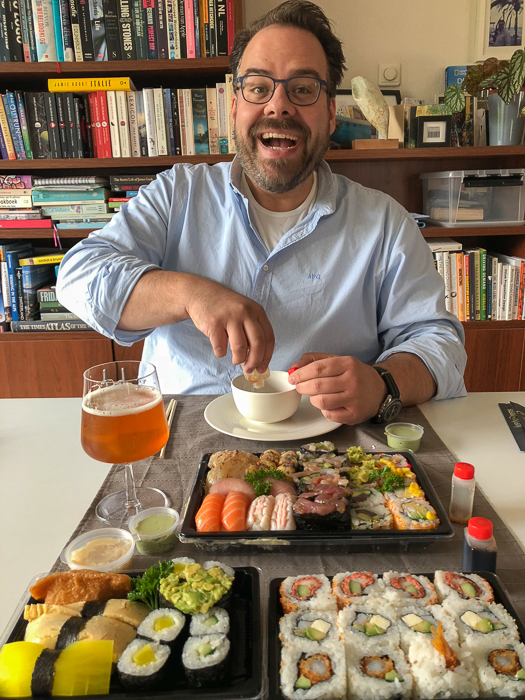 During the last week of August, my nieces Mare and Lena came to stay with us for 3 days. It was really nice!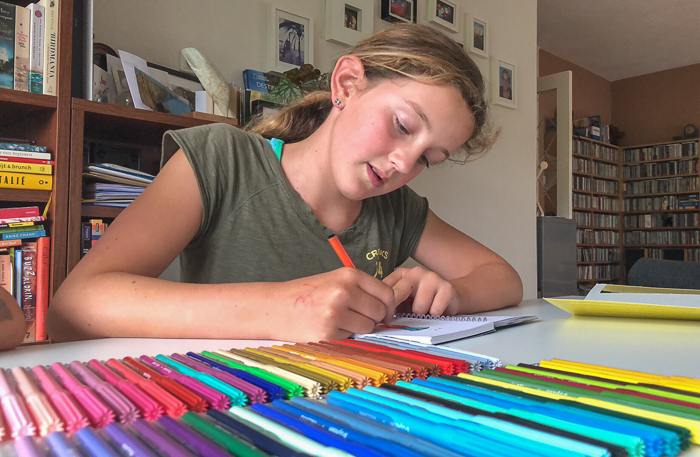 The next day Jessica joined us and we went to visit MiniWorld, which shows Rotterdam in miniature. It's quite cool, with a daylight-nighttime cycle where the lights change during sunset and nighttime.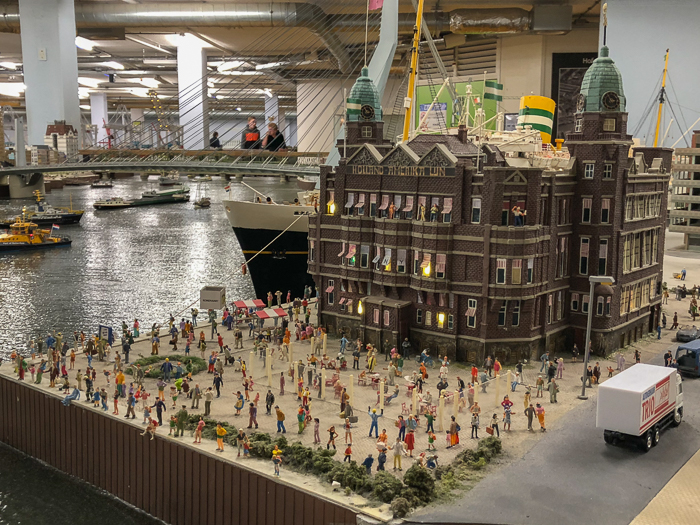 Afterwards we had delicious pancakes for lunch… 🙂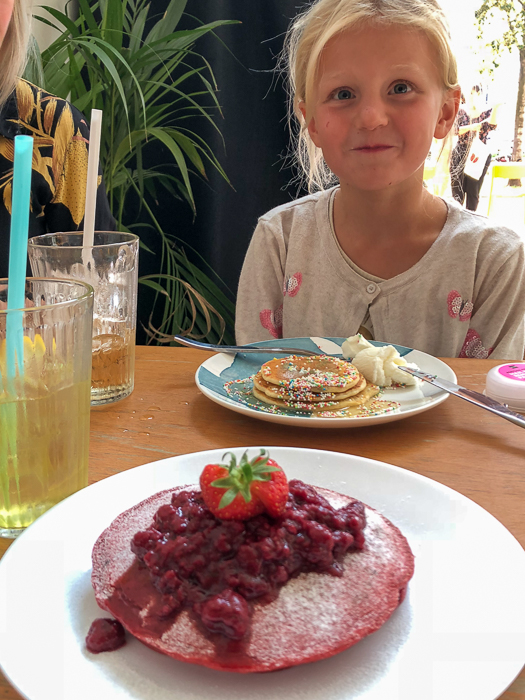 We then took the metro and the very cool escalator at Wilhelminaplein.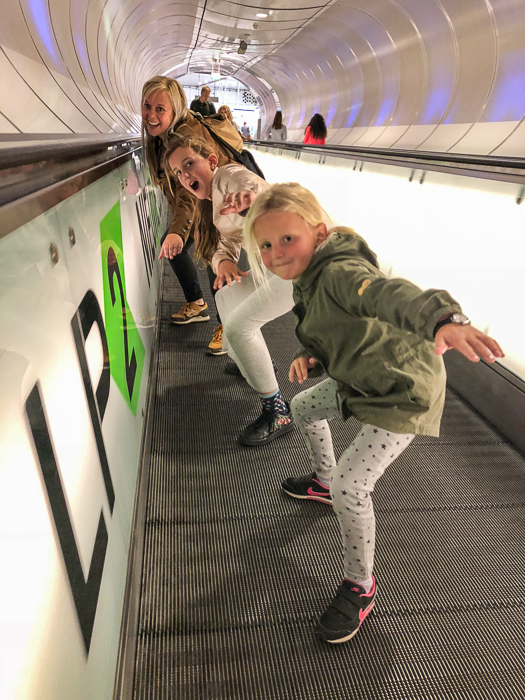 We took the bridge from Hotel New York to the Fenix Food Factory, which took a loooooong time because Lena wanted to touch every single heart shaped lock that was attached to the bridge, haha!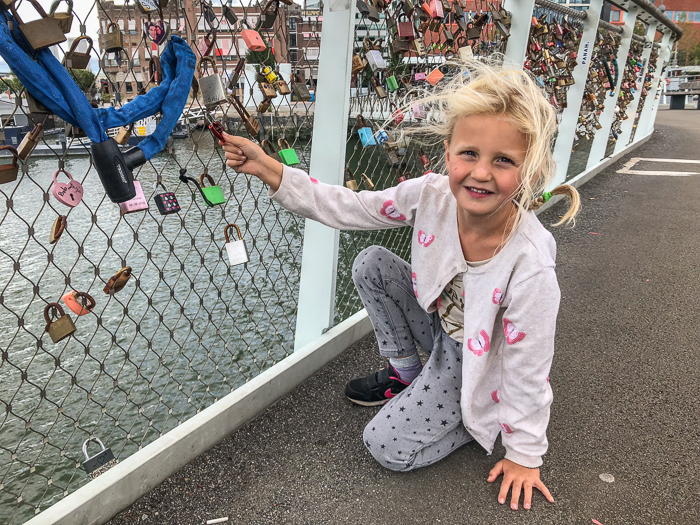 Jessica went to take some photos of the Fenix hall to decorate their new house with. It's a very photogenic place!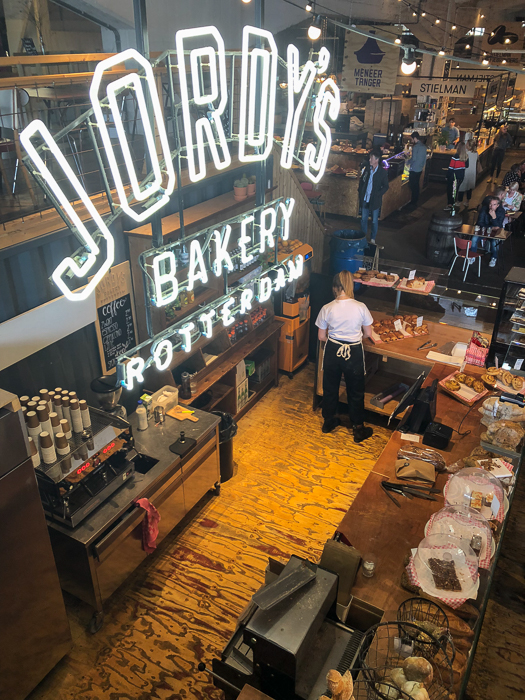 Of course we couldn't resist ordering some more food here, it was good and it was fun 😀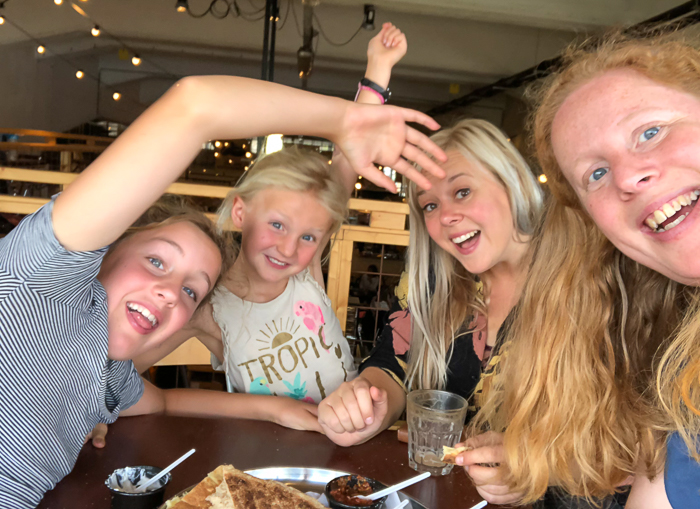 Then Jessica went home, and we took a watertaxi to the other side of the river. We didn't get the superfast one, but a fancy slower one from Hotel New York, which Lena was happy with and Mare disappointed about 😉 The Wereldmuseum (World Museum) was being renovated, so only one room was open – we watched a film there.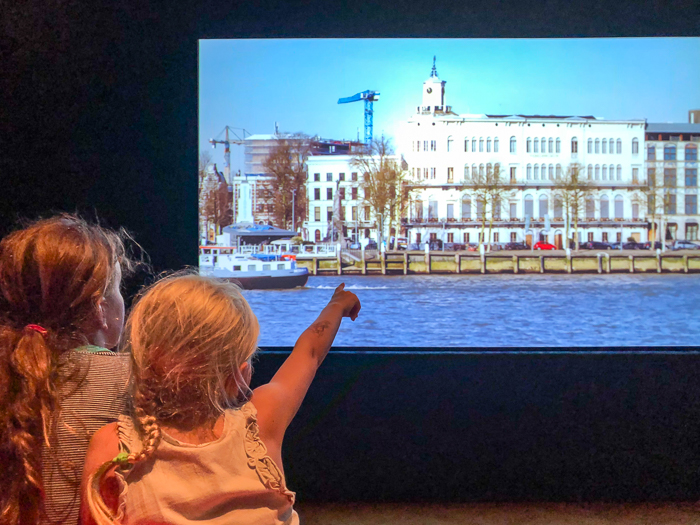 The next day we spent a couple of hours shopping in Rotterdam, or perhaps we spent most of our time playing with the water fountains in de Koopgoot…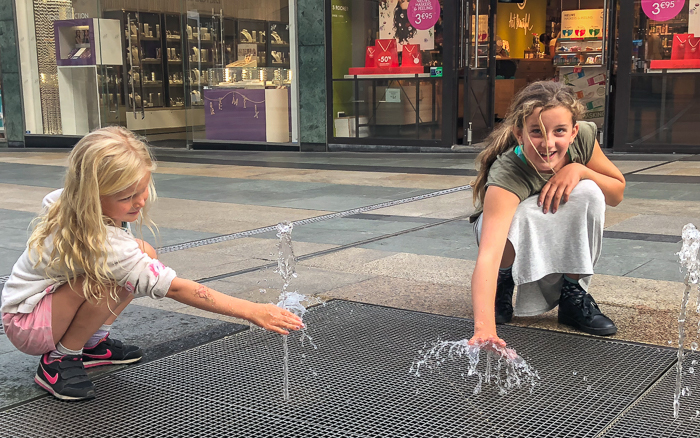 We had a break with really delicious cake at Picknick 🙂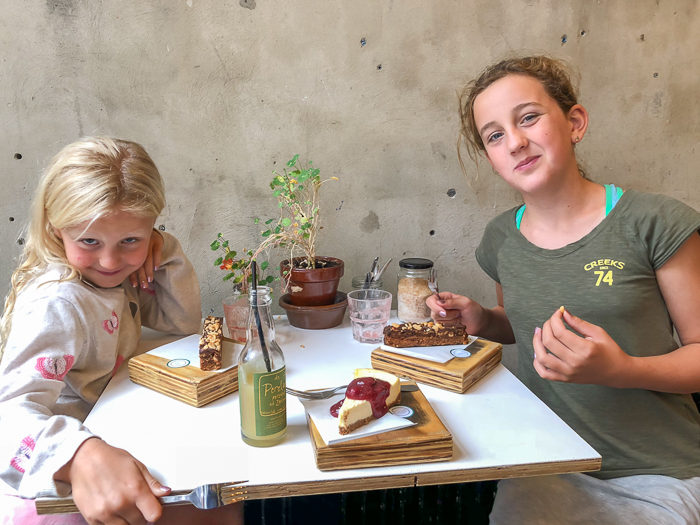 And after that, it was time to drive back to Haarlem and take them back to my brother and Kaya. We had a nice dinner there. And with that, the sad month of August at least ended on a happy note…