London, Lymington – and a job!
Let's start with the good news: I found a job in Tromsø! I'm going to work for met.no as a weather forecaster. I'm really excited 🙂 I'm not sure when I will start yet, as this also depends on the second person they are hiring (we have to do our training together). I'm so happy that I found a good job, and I am looking forward to "really" live in Tromsø (I've been a visitor all this time, unable to do the simplest things like opening a bank account). We're also almost certainly going to keep renting the wonderful flat we are in now, but it will become unfurnished – we are excited about decorating/buying furniture. Yay!
I've had a busy week… on Monday I took the train to London, which takes only 1.5 hours. I met up with Tanja and her friend Mike, and after a pub lunch, we visited the Victoria and Albert museum. Quite a crazy collection of all kinds of things, very interesting. Below is a photo of Mike and I in front of the big entrance, and the beautiful cafe where we had a break.
We also went to say hi to Tanja's biggest friend: the blue whale in the Natural History museum 🙂 The museum is next door to the V&A; museum, and housed in a beautiful building. The photo below shows the entry hall, I love it!
On Wednesday I took a train to Lymington, on the edge of the New Forest. From there I walked part of the Solent Way, to Keyhaven and Milford on Sea. This walks takes you through an amazing landscape of brackish marshes on one side and the Solent on the other side. I always thought the Solent is a river, but it's actually a stretch of sea. At this point, it is quite narrow and you can easily see the Isle of Wight on the other side. The day started out very sunny, but soon the clouds were increasing…
Some lucky people live in this beautiful old building in the middle of the marshes! This area used to known for salt works. Now the marshes are a paradise for birds. Unfortunately, I didn't have the right lens with me for taking photos of the birds, but I did catch these geese flying over.
The skies became darker and darker, until it started to rain quite heavily. In these marshes, there is nowhere to take cover so I got soaked. I didn't mind though – I saw the best rainbow I've ever seen! Suddenly the sun broke through the clouds and the colours of the landscape became very vibrant against the dark sky – with a beautiful double rainbow as the icing on the cake 🙂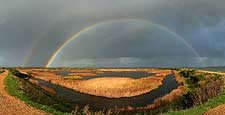 It briefly became quite sunny again after the shower had passed, but not for long. The tide was going down, exposing large muddy areas.
Near Keyhaven, there is a long spit with a castle at the end (Hurst castle). I could see it from far away, as well as "the Needles", chalk cliffs at the isle of Wight behind it. I decided not to walk to the end of the spit though, as it was really windy and exposed and I didn't want to get soaked again. I walked from Keyhaven to Milton On Sea to catch the bus back to Lymington. The public footpath was more like a small river, very wet and muddy. It had become very windy too, with some impressive cloud formations. In the photo below (on the right) I managed to get the reeds blurred as they move in the wind 🙂
From Lymington I took the train back to Southampton. I really enjoyed this area, Lymington itself is also a really nice looking town. I told Paul that if we ever move to Southampton, I want to live in Lymington – but unfortunately I don't think I'm the only one, house prices there are rather high 😉 Anyway, no need to worry about that as we are now certain that we're staying in Tromsø for at least another year 🙂