Art in Den Haag: Escher and Mesdag
I recently spent a day in Den Haag (The Hague), where I visited two museums. On of them is a favourite of mine that I have visited once before: Escher in het Paleis. This museum is housed in a palace that was used by 4 generations of Dutch queens.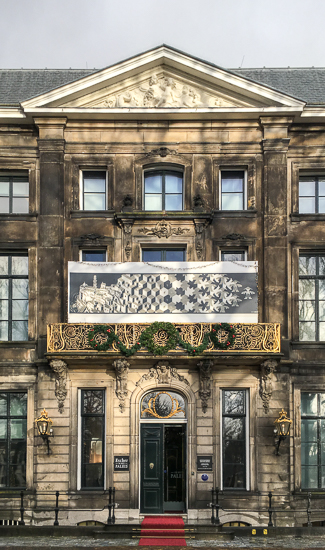 Since 2002, it houses the museum about one of my favourite artists: M.C. Escher. He's known for his impossible illustrations, and for transformations from one pattern to another. Here's a self portrait from 1929…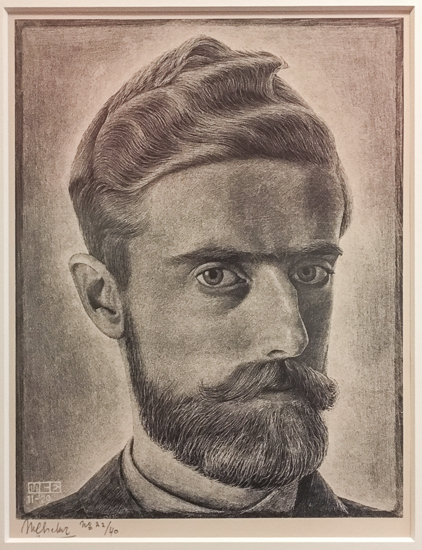 And another one in quite a different style, from 1922…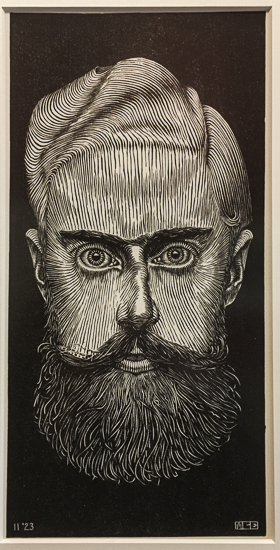 Here's an example of his clever use of patterns that repeat until eternity (it seems), and where devils and angels perfectly fit in each other's negative space.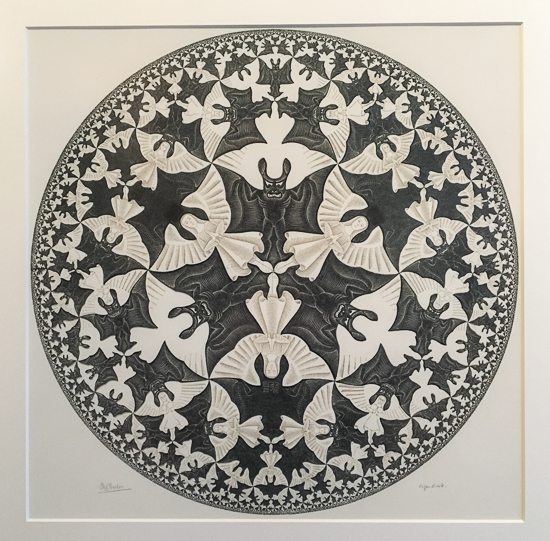 An "impossible" illustration called Möbius Strip II – the ants can keep walking forever!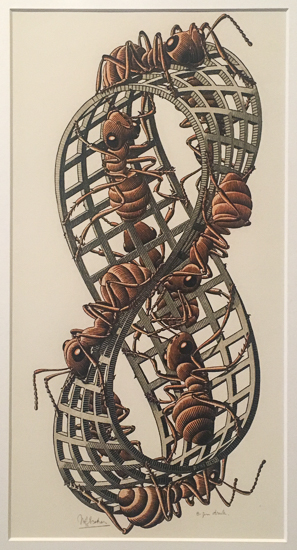 Another example of an "impossible" illustration called Belvedere, where you have to look a second time to find nothing really makes sense. The pillars are placed in impossible ways (the ones at the back supporting the front of the ceiling and vice versa).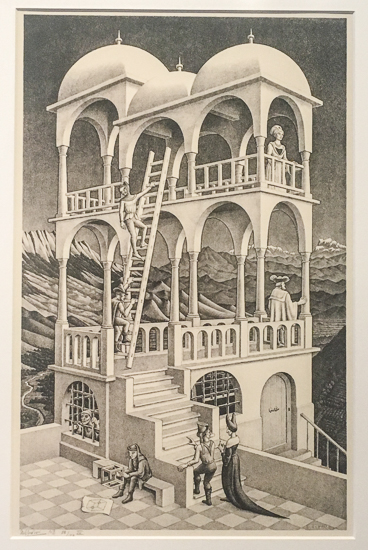 This is my favourite illustration by Escher, called Day and Night. It shows a typical Dutch river landscape with a small town and agricultural fields. From left to right, the image mirrors, and swaps from white (day) to black (night), and from bottom to top, the fields merge into geese flying over the landscape. It's such a work of genius!
While Escher is famous for these kind of illustrations (where patterns cleverly blend into each other, or perspective is twisted and plays tricks on your mind), he also drew fantastic landscapes. Escher spent a lot of time in Italy, and this illustration shows the village of Castrovalva, in the mountains east of Rome. He didn't draw it exactly as it was, but he captured the essence of a place. And here too, he plays with perspective and cleverly draws your eyes around the print.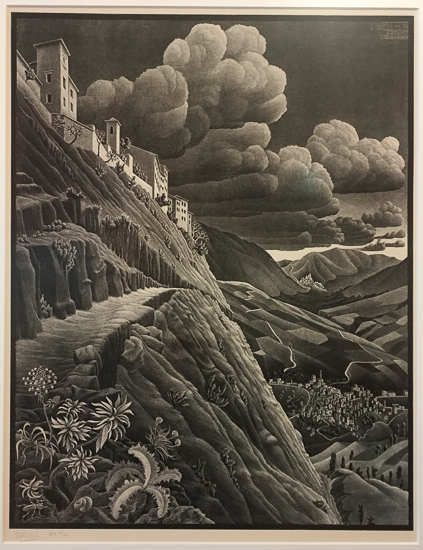 This one is from Bonifacio on Corsica. I love the dazzling depth of looking down at the small beach, and the layers of beautiful rock that the town is built on. Again, your eye is taken on a tour through the print: from the beach up the rocks to the town and then to the sea and the way the horizon lights up behind the houses.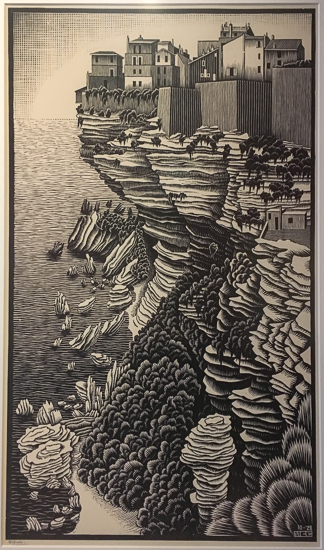 Apart from admiring the Escher prints (and having fun on the interactive top floor, where you can play with perspective yourself), the palace itself is also really beautiful. It was in use by the royal family, and when they left they took the chandeliers with them. To replace them, the museum has used chandeliers by Hans van Bentem. I have to say, I don't really like the chandeliers, they seem a bit out of place (there's a giant skull one for example) and not a good match to Escher's work OR the palace… but that's my personal opinion 😉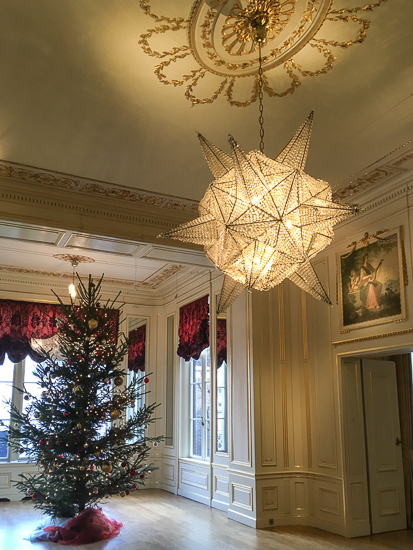 If you are interested in the royal family, each room has information about how it was used, and there is also a small exhibition of historic photos. Like this one of the future Queen Emma and her husband King Willem III – they married when she was 20 and he was 61…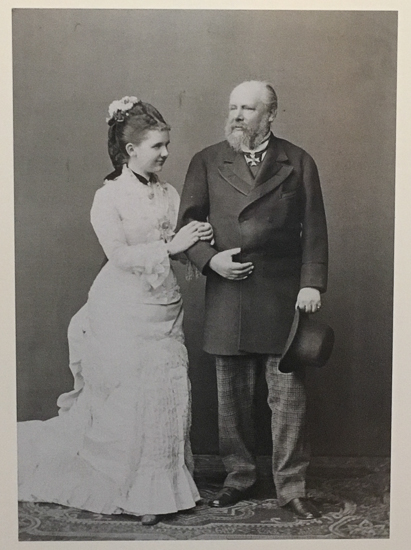 When I stepped out of the museum, I saw a beautiful rainbow!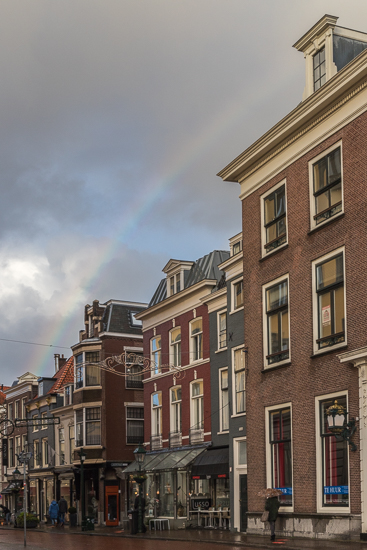 I walked around Den Haag for a while. This house is very close to the Escher museum. Isn't it beautiful?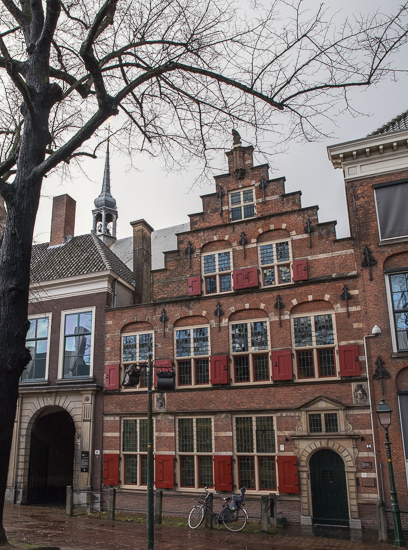 Den Haag is full of stately buildings: most foreign embassies are housed in Den Haag, the government is seated here and the royal family also has a few palaces and buildings.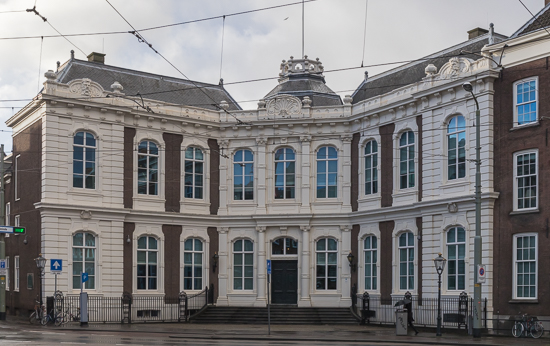 In front of the government buildings there's a sculpture of a little boy pointing at them. He's a famous character from a children's song about the son of a count who lived in Den Haag.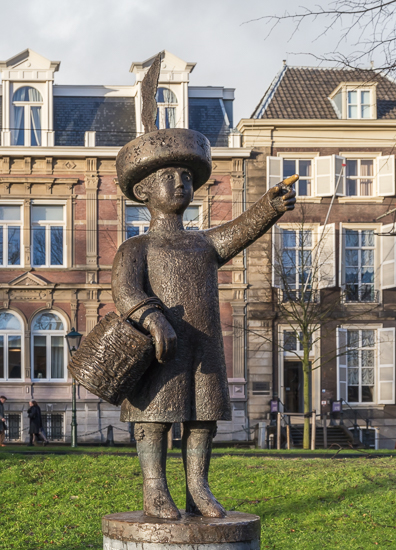 These are the government buildings called Binnenhof – the centre of the Dutch government has been housed here since 1584, and it's the oldest House of Parliament in the world that's still in use.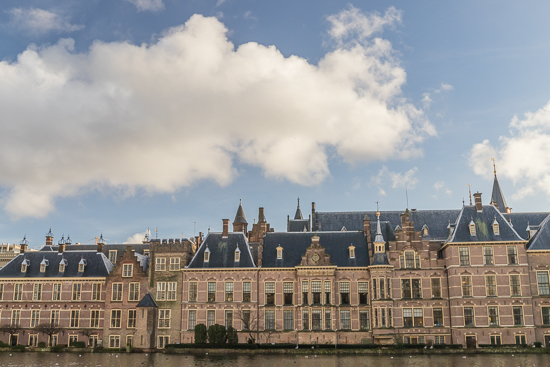 The tower to the right of the white building is the office of the prime minister. Must be a nice office! 🙂 The white building is called Mauritshuis and it houses an art museum with paintings from the Dutch golden age. It has Girl with a Pearl Earring by Vermeer, for example. I'll have to come back to see this museum one day!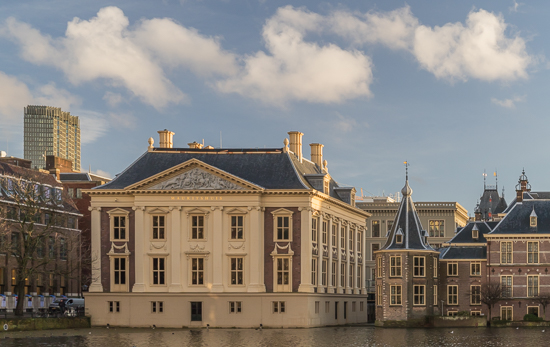 Entering the inner courtyard of Binnenhof…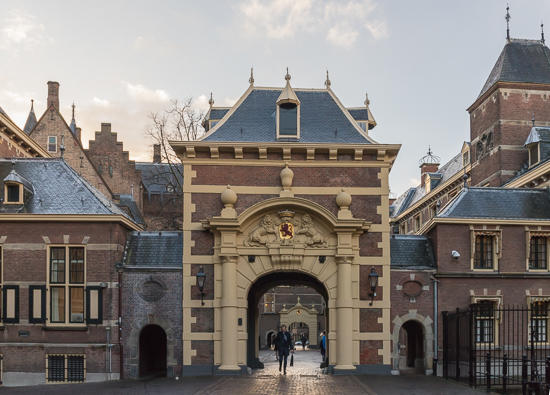 You come onto a large square surrounded by government buildings.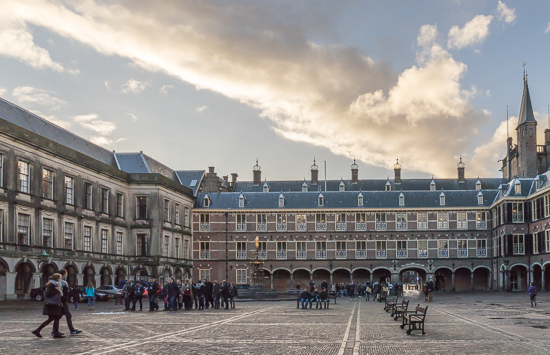 In the middle of the square is the Ridderzaal (Hall of Knights), the main building of the government. A lot of official happenings take place here.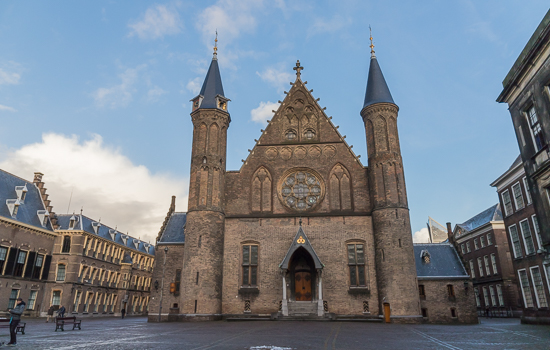 Not very far from the government buildings is Paleis Noordeinde which is the "working palace" (doesn't that just sound wrong??) of the King of the Netherlands.
The palace is pretty, but I actually loved the building next door even more! What a beauty! It doesn't seem to have an official function, and the ground floor even seemed empty, but what a great building.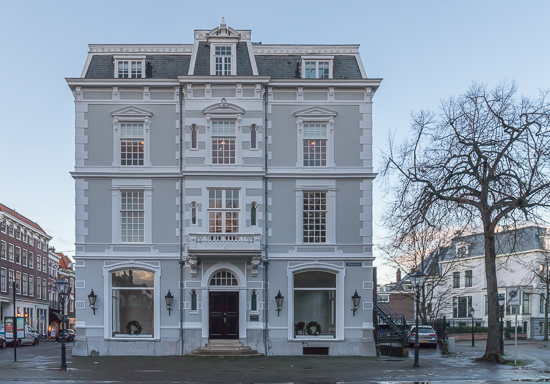 I continued my walk until I got to Panorama Mesdag. In this museum you can first see some regular paintings by Mesdag and his wife…
Mesdag painted landscapes and villages, this one showing Scheveningen (the seaside town linked to Den Haag).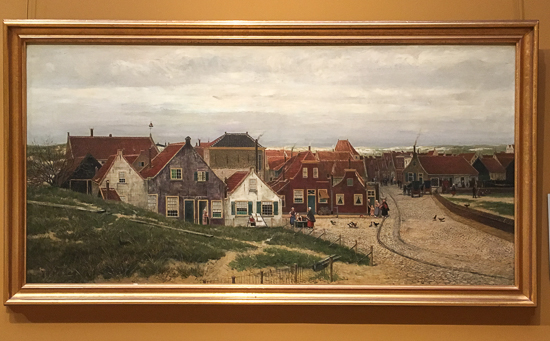 Afterwards, you enter a dark hallway and then go up a flight of stairs in the dark. You then enter into a huge 360 degree cylindrical painting (14 meters high and 120 meters in circumference!!) of Scheveningen and the beach. The moment you enter is so impressive it took my breath away. The painting is beautiful, and the size dazzles your mind. It's as if you really stand on top of a sand dune at the beach! I'm not posting any pictures of it, as they can't do the experience justice. Just go there and see for yourself!
The museum also had a temporary exhibition about the relatively unknown painter Pieter de Josselin de Jong. He's called the Forgotten Master. This portrait shows his wife Jeltje.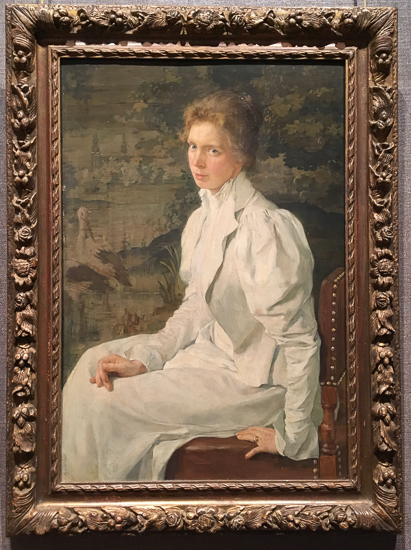 He painted lots of farmers, industry, people working… but I was most impressed with the portraits he painted. They were so beautifully done that you could almost image the person starting to talk to you! 🙂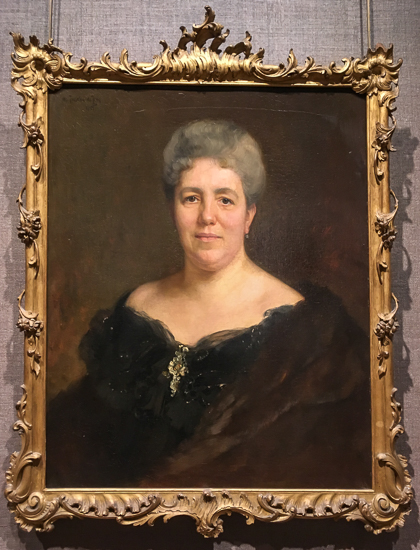 I can really recommend a visit to Den Haag, there is so much to do – the Escher Museum and Panorama Mesdag are just two examples of really nice museums!