We hadn't really made any plans for Easter, but the weather was so stunning that we decided to go for a road trip. We managed to find a room in a hostel in Kiruna, Sweden – almost 400 km from Tromso. The trip there was very beautiful, with many ice waterfalls next to the road…
… and stunning views along the way!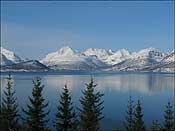 Crossing the mountains on the border between Norway and Sweden was very impressive. We also got to see where all the Norwegians hang out for Easter – all parking places along the road were more than full, there were campers and caravans everywhere too. Crazy!
The next morning we explored Kiruna. It's a strange town – it exists because of a huge iron mine next to the town. It's a bizarre sight! Because of the mine, there is subsidence below the city and the city will have to move to a new location in the coming years.
Kiruna has a beautiful wooden church. Because it was Easter Sunday, there was a mass going on so we didn't want to go inside and we just admired the church from the outside. Very impressive how it's all wood!
Kiruna is located in the interior of Sweden and thus much colder than Tromso – almost -20 during the night, about -14 during the day. A very dry cold though, it reminded me of Fairbanks – they even had the same glitter snow falling :-). Because of the cold, most cars are plugged in overnight to keep the engine warm. We discovered first hand that this is not just a luxury, we couldn't start our car on the second morning… luckily a friendly neighbour of the hostel helped us out enormously until *finally* our engine started while he gave us a tow. Btw, the car in the photo on the right is really abnormally long!
Kiruna has many appartment buildings (probably to house the miners), but they are not ugly. There even were some brick buildings, wow ;) (you don't see many of those around here!)
A bizarre advertisement in such an Arctic town, and some funny graffiti:
The view from our hostel window…

In the afternoon we went skiing. It's incredible how empty this part of Sweden is! If you think the population density around Tromso is low, think again… So much empty land, such wide rivers and huge forests. It's called the last wilderness in Europe and it does definitely feel that way. We went skiing next to the road though, near a snowmobile highway, hehe. This friendly dog stayed with us for a while.
We went to the river, where we thought we could see big boulders covered in snow. Such a pretty sight! When I tried to destroy one (hmm some aggression??) I couldn't find a boulder inside though! Big mystery! We don't quite understand how they are formed. I couldn't investigate fully though, as at some point my skies broke through the ice (very scary!!) and I was afraid I would really fall through. I went back on the land and did not dare to go back on the ice.
We skied back along the river, and we even saw a swan there and some cute black and white shorebirds who were singing beautifully. I do miss the birds in Tromso, there you don't see much more than crows, magpies and seagulls most of the time.
Paul jumping on his skies…and the last sunrays over a big frozen lake.
The next morning we left Kiruna. Some last photos: completely buried cars next to a house, and the big mine right next to the town.
On the way back, we visited the Ice Hotel in Jukkasjärvi (very near Kiruna) – a hotel completely built out of ice. We thought it would be small and very touristy, but actually it was huge and very impressive! Here's Paul on the ice toilet, and in one of the corridors of the hotel…
This is the central hall of the hotel and full of beautiful ice sculptures.
These are the "budget" rooms (still at least 200 pounds for a double room!) – very simple small rooms with beds in it. The beds are made of ice but have mattresses on top with reindeer skins. The one in the photo is for 6 people, nice and cosy ;)
The art suites are more impressive, and each one is designed by a different artist. Some are really cool! When I saw those suites, I could imagine you'd want to spend the night there. Those start from 250 pounds a night, so I don't understand why anyone would choose the budget rooms hehe.
The one on the left (below) was my favourite! It's a big dragon, its head is the bed (you sleep on its nose) and on the right you can see its feet and the tail goes all along the room. Cool!!
The Turbo meter changed colour, it was next to the room with the car in the photo above. The photo on the right is a design suite (designed by the team of the ice hotel itself and not individual artists).
I loved this bird, it's really amazing what they can do with ice! The photo on the right is the northern lights room and looks like it's been made of snow!
There was also an icebar, sponsored by Absolut vodka. They didn't seem to sell anything but vodka, hmm not very tempting at noon. On the right is the chapel, I liked the decorated ceiling.
There were lots of "sparks" – kicksleds typical for this area. You often see them around Tromso as well, people use them a lot to go shopping as you can put your shopping on the front and it gives more stability than walking. I finally got to try one, good fun! We also found this room where they make ice sculptures.
We drove back the other way around, through Finland. Still in Sweden, we found this road over a frozen lake to a graveyard on an island… of course we had to try it out!! There were lots of signs saying how heavy the car could be and how much distance there should be between cars. And there were snowmobile crossings too :)
This was what the road looked like most of the time – endless forest and hardly anyone on the road. Very beautiful!
It was a great trip! Now it's back to work for a few days, and on Saturday Paul's parents are coming to visit for a few days. I'm keeping my fingers crossed for better weather, it's been snowing a LOT here. Today I came back from town completely covered in snow hehe.